---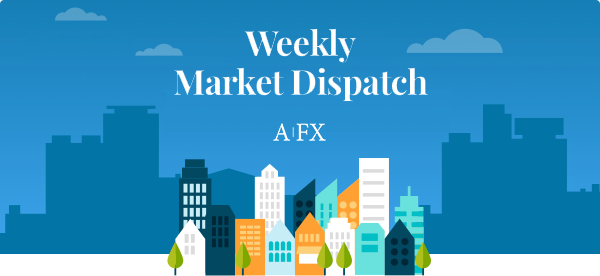 Round Three
Last week witnessed little in the way of economic statistics to provide investors with a sense of direction – with the notable exception of Canada, more below – but political developments and central bank mischief provided players with a large measure of uncertainty as the week ended.

To begin with, Canada saw the release of March inflation numbers which came in well below the call: CPI mth/mth +0.2% vs call +0.4% and identical to February's +0.2%; CPI yr/yr +1.6% vs call +1.8% and well down from 2.0% recorded in February. Players weren't terribly impressed by these numbers, reckoning that it pushes off any possible rate hikes by the Bank of Canada well into the future and promptly hit the Loonie, making it the week's loser.
On the other hand, GBP was far and away the winner following the surprise announcement by PM Theresa May of a snap election to be held June 8th. By tradition, Ms May wasn't required to go to the polls until 2020 but, given her small majority in the House of Commons, generally high levels of support for her Conservative Party and the desire for a firm mandate to conduct the upcoming Brexit negotiations, the call isn't that surprising. The general view is that a firm mandate will strengthen Ms May's position and make a 'hard' Brexit (restricted EU access) less likely, with something closer to the position enjoyed by both Sweden and Norway possibly being the ultimate result. (Both these latter nations have open borders with the EU; the UK likely won't agree to that). Mr. Market had been short-selling Sterling for some time now in anticipation of prolonged weakness but covered in a hurry, as is evident in the chart below:

May speaks, Sterling rallies
In Japan, it emerged that two of the more 'hawkish' members of the Bank of Japan will be replaced, when their terms end this summer, by two new members more in line with the thinking of BOJ Governor Kuroda. The Bank is maintaining its policy of targeting a 10-year JGB (Japanese Government Bond) yield of 0.00% and continuing an expansionary monetary policy. Given that one of the individuals slated to join the BOJ is a member of the Keynes Society, there would appear to be little likelihood of quantitative tightening (QT) here! (See Newsletter April 10)
The EUR gained ground on the week, although it was well off the highs against the USD seen earlier this month. Investors had grown cautious ahead of the first balloting in the French two-stage presidential election. (The first ballot was yesterday, with the two largest winners or all candidates above a certain threshold percentage of ballots facing off on May 7th). The concern, obviously, is with Marine Le Pen and her Front Nationale, and their well-telegraphed dislike of both the EUR and the EU. The extent to which last Thursday's alleged terrorist strike in Paris garnered more support to Ms Le Pen is unclear; that it firmed up some undecided or wavering support is most likely. The unstated fear was of a runoff between the hard-left candidate Jean-Luc Melenchon and the hard-right standard-bearer Mme Le Pen. Markets were keen on neither. The preferred runoff would be between centre-right candidate, Francois Fillon and centre-left Emmanuel Macron, but it's up to the voters.
To use the boxing metaphor, this is the third round of the populist revolt commencing last May with Brexit as round one, November's election of Donald Trump as round two, now the French elections and possibly Italy being round four later this year.
What's new in America? There was precious little in the way of hard economic news, aside from a couple of third-tier statistics that had little effect on markets. In recent weeks, the greenback had suffered some weakness over what appeared to be a lack of direction in Washington following the abortive Obamacare replacement. However, traders started paying attention with the strike on Syria two weeks ago and now the sabre-rattling with North Korea, the so-called 'Hermit Kingdom'. But it was left to Treasury Secretary Steve Mnuchin to really light a fire under the USD. Speaking at a conference in Washington last Thursday, he remarked that "We are close to bring (ing) forward major tax reform"', refuting the belief that it would be delayed until 2018. It was reported late last Friday that something along these lines will be announced this Wednesday. Mr. Mnuchin stated that the priority for the administration is creating jobs, adding that tax reform and regulatory relief will promote growth. Our colleagues Dr. Long and Mr. Short liked the tone of these remarks and, amid speculation that the effort to repeal Obamacare is once again on track and a general feeling that a USD bounce was overdue, started buying the greenback.
Sec-treas to the rescue
Earlier on we mentioned central bank mischief. The two worst offenders in this regard are the BOJ mentioned before and the ECB (European Central Bank), although the BOJ is at least honest about its intentions. While the Bank of Canada, Reserve Bank of Australia and RB of New Zealand have never engaged in major Quantitative Easing (QE), the Federal Reserve has recently been making noises about ending QE and moving to Quantitative Tightening (QT). As well, while the ECB has made discreet mention of tapering (reducing QE), the fact is that, along with the BOJ and Bank of England, these latter three institutions have never seriously restrained their bond purchases (see graph below). Again, as we have mentioned before, this is all about driving interest rates to zero and beyond, hopefully sparking a strong, consumption-led recovery that will simultaneously end the economic stagnation in place since 2008 and trigger reflation in the economy (reflation being preferred to the more alarming term 'inflation'). The latter will allow heavily-indebted national governments to manage more readily their enormous debt loads. That this strategy has largely failed should be clear to all, but central banks – and their elected masters – remain undeterred.
A little restraint, PLEASE
Our friends in the bond market, noted for jumping at shadows and resolutely looking for storm clouds on a sunny summer's day, traded with little interest last week. The 30-year Treasury rallied on soft retail sales and inflation numbers released on Good Friday – trading well below 3.00% and currently around 2.87% - whereas the 10-year Treasury traded in a very tight range, briefly piercing resistance at 2.22% (Nov 11/2016) to trade at 2.17% but couldn't maintain it, currently trading back at 2.23%. So the resistance is holding! This brings up the question of just how high bond yields can go when central banks finally end QE and coordinate QT amongst themselves. The answer, surprisingly enough, may be not appreciably higher than they are now, not more than 150 to 250 basis points higher (1 basis point = 1/100 of 1%). The following graph shows US long bond (30-year) yields all the way back to the antebellum era. Takeaway: Interest rates may be low, relatively speaking, for many years to come.
This week sees a light scattering of economic releases early on, followed by a myriad of important numbers starting Wednesday, along with a handful of Fed speakers.
Key Data Releases This Week
Forecast
Previous
MONDAY, MARCH 13

04:00

EUR

German Ifo Business Climate

112.4
112.4
TUESDAY, MARCH 14
10:00
USD
CB Consumer Confidence
123.7
125.6
21:30
AUD
CPI q/q
0.6%
0.5%
21:30
AUD
Trimmed Mean CPI q/q
0.5%
0.4%
WEDNESDAY, MARCH 15
08:30
CAD
Core Retail Sales m/m
1.7%
10:30
USD
Crude Oil Inventories
-1.0M
Tentative
AUD
RBA Gov Lowe Speaks
23:50
JPY
Monetary Policy Statement
THURSDAY, MARCH 16

Tentative

JPY
BOJ Outlook Report
Tentative
JPY
BOJ Policy Rate
-0.10%
-0.10%
02:30
JPY
BOJ Press Conference
07:45
EUR
Minimum Bid Rate
0.00%
0.00%

08:30

EUR
ECB Press Conference

08:30

USD
Core Durable Goods Orders m/m
0.4%
0.5%
08:30
USD
Unemployment Claims
241K
244K
FRIDAY, MARCH 17

04:00

CHF
SNB Chairman Jordan Speaks
04:30
GBP
Prelim GDP q/q
0.4%
0.6%
08:00
CAD
GDP m/m
0.6%
08:30
USD
Advance GDP q/q
1.3%
2.1%
by




DAVID B. GRANNER




Senior FX Dealer,




Global Treasury Solutions

by




FRED MAURER




Senior FX Dealer,




Global Treasury Solutions