---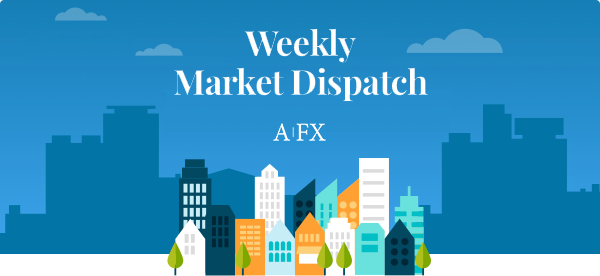 Quid Tacuit
Last week witnessed a plethora of political developments, central bank-speak, key economic statistics and even a 'shot across the bow'. In no particular order, we will review these events and their impact on markets.

First up is American March jobless numbers, released last Friday. Traders examine these numbers very closely for clues to US economic health, labour market vitality and clues to the future path of interest rates. The ADP number released last Wednesday, considered a somewhat-reliable harbinger of employment stats, indicated strong growth in job creation, with the headline at +263K jobs, well above the call of +185K and the highest since December/2014. Additionally, weekly jobless claims declined 25K to 234K, a remarkably low level and well below the call of 245K. The stage was set, seemingly, for a strong jobs report and resumption of the so-called Trump rally.

So what happened? A mere 98K jobs were created versus the call of +175K, which itself was down from the February's +235K. In fact, both January and February were revised down a total of 38K jobs, and that's never a good sign. Mr. Market promptly hit the greenback and equities and piled into Treasurys – but not for long. Events such as the Syrian airstrike and terror episode in Sweden helped the greenback, with its safe-haven status intact, to recover on Friday.

Not so close this time

In the True North, the story was rather different. Canada has seen stellar job creation – most of it full-time – in the past several months, so a giveback of some sort could reasonably have been expected. As it turned out, a total of 19.4K jobs were created in March, 18.4K full-time and the balance part-time, with the unemployment rate rising to 6.7% as expected from February's 6.6%. A rising rate is generally a good sign, as unemployed workers emerge to join an improving labour market, and the lack of any sort of giveback on recent job gains was even better. CAD ticked higher as a result but eventually lost ground as USD recovered sharply. This week's Bank of Canada rate-setting will likely see CAD trade in a tight range for now.

North America's strongest real estate market is located in Canada's largest city, Toronto, and house price gains there in recent years have been spectacular. Municipal politicians have been speaking with provincial and federal counterparts about possible solutions to this overheated market. As can be seen in the graph below, this is clearly no longer a bubble, but more like a speculative frenzy.

Regardless, it is not obvious what politicians can do about it, or whether they should.
Up, up and away

The Federal Reserve released the minutes of its March rate-setting meeting last Wednesday. As we have noted before, Fed Open Market Committee communications tend to be opaque rather than transparent and can be interpreted in various ways; this document was no exception. That said, our experts in Fedspeak – Dr. Long and Mr. Short – did glean the following:
Most members anticipate further gradual increases in the overnight rate this year, barring major negative surprises.

The balance sheet should be reduced in a predictable manner.

Some members felt equity prices were high relative to historical norms.
So what does all this mean? Investors can anticipate further rate hikes by the Fed, notwithstanding last Friday's disappointing jobs number – this isn't really a surprise, as traders had already priced in at least two or three hikes going forward. The latter two points, however, are quite noteworthy. Reduction of the balance sheet refers to the end of any Quantitative Easing (QE) for good and its replacement by, to coin a term, Quantitative Tightening (QT). This was touched on in last week's newsletter (CB Convergence) and is now taking shape. The scaredy-cats in the bond market perked up their ears at this, as the Fed signaled that it will no longer be replacing any maturing Treasurys or Mortgage-Backed Securities (MBS) in its portfolio. Since QE was capped some while back, the Fed would replace maturing bonds with newly-issued bonds – rolling over the maturities – and remit all coupon interest earned to the Treasury Dept., effectively freezing the size of its QE portfolio. Now that the Fed apparently will no longer roll over maturing notes, bond yields – and interest rate levels generally - will start rising. Reduced demand for bonds from the Fed and huge projected federal deficits virtually guarantee it. Despite a rally in the ten-year Treasury following Friday's jobs print, the die is cast. The ten-year bounced off the Nov. 29/2016 low of 2.29% and failed to pierce it – higher yields will likely follow.
Ten-year Treasury six-month yield chart (courtesy MacroTrends)

The last remark by the Fed – that equity prices were high by historical standards – has been largely ignored by players. The reasoning is that the Fed instituted QE after dropping Fed Funds to almost zero, and bought longer-dated Treasurys and MBS to drive down long-term interest rates – too successfully, it would seem. Equities became quite attractive by comparison, so Mr. Market thinks it's somewhat rich that the Fed would now criticise equity prices perceived as 'high'.

We mentioned QT as an abbreviation for Quantitative Tightening, the path the Federal Reserve now appears to be following. But QT has another meaning – Quid tacuit – 'Left unsaid', as in 'On the QT', and this can be applied to remarks made last week by ECB chief Mario Draghi. Referring again to last week's newsletter, world central banks appear to be abandoning QE in a move to normalise interest rates, but are proceeding very discreetly lest markets, especially the bond market, get badly spooked by the end of ultra-low rates. By any objective standard, such tightening moves are long overdue, but central banks must proceed with caution, which brings us back to Mr. Draghi. He would like to join the Fed in normalising rates but, until the critical French elections slated for both April and May are out of the way, he had to stick to anodyne statements about inflation and growth and left unsaid his wish to end Eurozone QE and replace with Eurozone QT.

Lastly, the American shelling of a Syrian base as a warning to the government of Bashar Assad – and his Russian benefactors – is a classic 'shot across the bow', straight out of the textbook. But left unsaid is the probable real reason for all this animosity – oil, as usual.
This week sees a Bank of Canada rate announcement and a number of second-tier US releases, as well as a speech today by Fed chair Janet Yellen.
Key Data Releases This Week
Forecast
Previous
MONDAY, MARCH 13

16:30

USD

Fed Chair Yellen Speaks

TUESDAY, MARCH 14
04:30
GBP
CPI y/y
2.2%
2.3%
WEDNESDAY, MARCH 15
04:00
GBP
BOE Gov Carney Speaks
04:30
GBP
Average Earnings Index 3m/y
2.1%
2.2%
10:00
CAD
BOC Monetary Policy Report
10:00
CAD
BOC Rate Statement
10:00
CAD

Overnight Rate

0.50%
0.50%
10:30
USD

Crude Oil Inventories

11:15
CAD
BOC Press Conference
21:30
AUD
Employment Change
20.3K
-6.4K
21:30
AUD
Unemployment Rate
5.9%
5.9%
Tentative
CNY

Trade Balance

76B
-60B
THURSDAY, MARCH 16

08:30

CAD
Manufacturing Sales m/m
-0.4%
0.6%

08:30

USD
PPI m/m
0.0%
0.3%

08:30

USD
Unemployment Claims
242K
234K
10:00
USD
Prelim UoM Consumer Sentiment
97.1
96.9
FRIDAY, MARCH 17

08:30

USD
CPI m/m
0.0%
0.1%
08:30
USD
Core CPI m/m
0.2%
0.2%
08:30
USD
Core Retail Sales m/m
0.2%
0.2%
08:30
USD
Retail Sales m/m
0.1%
0.1%
by




DAVID B. GRANNER




Senior FX Dealer,




Global Treasury Solutions

by




FRED MAURER




Senior FX Dealer,




Global Treasury Solutions