---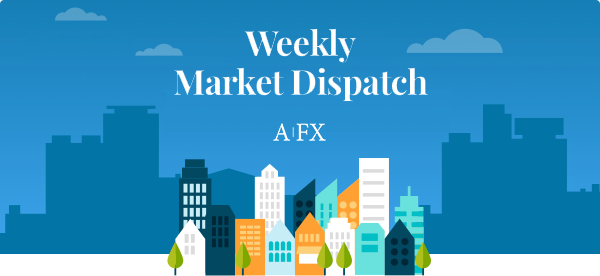 Politics As Usual
The past week saw just a handful of economic statistics released in Canada and America – more below – so, given the general lack of market-moving fundamentals, investors were compelled to pay heed to politicians, strutting and preening as usual, as numerous issues played out in the media. A tiresome exercise, indeed. Unpredictable, too.
In the True North, the loonie traded in a wide range in response to macro-political developments. CPI numbers released last Friday indicated continued moderation in price pressures: February CPI came in +2.0% yr/yr versus the call of +2.1% and down slightly from January's +2.1%. The big surprise was in Canada's January Retail Sales released last Tuesday: +2.2% mth/mth vs call of +1.1% and well above December's -0.5%. Traders liked the number and bought the loonie, but only for a bit; the Retail Sales numbers are actually over two months old and rather stale and other reports are more timely, like the recent strong employment statistics. That said, players looked closely at the federal budget delivered Wednesday afternoon by Finance minister Bill Morneau. Analysis of this document is beyond the scope of this newsletter; we note that market reaction has been largely muted given the government's low-ball predictions for near-term growth and interest rate levels and mostly predictable budgetary changes. In other words, there were no real surprises at all in the budget.


One bit of good news for Canada emerged last Friday, with the Trump administration finally giving the green light for construction to commence on the Keystone XL pipeline, this after years of politically-inspired foot-dragging by the previous Obama administration.
In America, markets were captivated by high drama coming from Washington, over the American Health Care Act of 2017 (AHCA). President Donald Trump was forced into negotiations with the so-called 'Freedom Caucus', a group of about 25 independently-minded – and arch-conservative - congressmen whose support is crucial to passing this legislation. Mr. Trump campaigned last year on replacing Obamacare, an ill-conceived piece of legislation whose numerous flaws had become glaringly obvious over time, and this vote was touted as the first serious test of his presidency. Mr. Market was displeased with this turn of events; passage of AHCA is the first part of Mr. Trump's ambitious reform agenda, to be followed by banking deregulation (read scuttling or otherwise gutting Dodd-Frank) and vast tax reform, both corporate and personal. While players would like to see reform of Obamacare, it is the latter two items of reform on which investors want to see prompt movement. Late last Thursday, Mr. Trump demanded a vote Friday on AHCA and isolated the Freedom Caucus should the vote fail, allowing him to place the blame for failure squarely on them. As things ultimately turned out, the needed votes were lacking and late Friday afternoon the proposed AHCA legislation was pulled back and placed on the backburner, leaving Obamacare the 'law of the land' for now, as House Speaker Paul Ryan put it. Mr. Trump can now move ahead on other items on his reform agenda, especially banking and taxation, although investors are still unsure of the path forward. Until the current uncertainty subsides – there's that word again! – bonds will likely rally and equities will continue selling off, while the USD will certainly take a hit.
Republicans are feeling pretty good these days! This recent setback on healthcare may prove ephemeral.
In the newsletter of March 13th, we noted that the US Treasury bond market had reached some critical technical points. The 10-year US Treasury bond had bumped up against resistance at 2.62%, and we explained that either the bond would break through, likely running to 3.02% and taking yields elsewhere in the fixed income market higher, or bounce lower and wait for another day. Given the uncertainty in Washington last week over the healthcare legislation and its possible negative outcome, both in terms of President Trump's political standing and stalling of his reform agenda, our colleagues Dr. Long and Mr. Short ran for cover, selling equities and the USD and moving into the safe haven of Treasury bonds. All the major equity indices sagged on the week, recovering then once again selling off on Friday after Mr. Trump's bold move Thursday evening, whereas the ten-year rallied sharply, trading as low as 2.38% before easing back to just above 2.40% - see chart below. The next move is likely to lower yields, given the failed outcome of the House vote on AHCA.
10 Year US Treasury – Six month Chart (Courtesy Macrotrends)
Continuing the theme of macro-political events dominating markets in recent days, both the EUR and the JPY had a nice bounce against the USD last week, following rumours of discreet – and unconfirmed – tightening of monetary conditions. Such tightening is, to be frank, microscopic, but given both the ECB and the Bank of Japan have been printing money with abandon for so long, even the slightest hint will rally these currencies. Additionally, in the Eurozone, a recent televised debate among the leading presidential candidates in the looming French elections ended with the establishment candidate, a centrist by the name of Emmanuel Macron, being declared the winner. Marine Le Pen came in third out of the field of five candidates, allaying concerns about a possible Front Nationale victory in the upcoming French balloting. Obviously bullish for the EUR, which traded above 1.0800 against the USD most of the week, and the EU as well.
Nonetheless, Europhiles shouldn't rest easy just yet. In Italy, voters have become increasingly disenchanted with the common currency, with 47% of respondents calling the EUR a 'bad thing' for Italy, while 41% approve of the unit, a far cry from the early '90s. With growth in 2017 forecast to be sluggish at best, jobless rate at 12% and youth unemployed at 37% (!), the anti-EU, anti-EUR Five Star Movement (M5S) has gained in the polls and could potentially form the next government. Led by Beppe Grillo, a comedian-turned-politician (much the same thing), M5S in recent polls topped the governing PD with 32.3% support vs 26.8%. In fact, a coalition of Italian Eurosceptic parties would easily top 50% support. The takeaway from these little-noted developments is that, despite the French centrist candidate winning the presidential debate and Geert Wilders' so-so showing in the recent Dutch elections, Brexit/Trump-style populism is far from dead in the zone.
Finally, let's take a brief look at oil. It is quite clear that OPEC's attempts at pushing up crude prices have been fruitless. Fracking is where the action is these days, and these American renegades are doing what Americans do best: driving down the cost of production.
These outlaws have reduced breakeven prices by at least 50% and are a clear and present danger to OPEC. With WTI currently trading around $48 USD/bbl, it is abundantly clear from the next chart that OPEC has largely failed in its bid to push crude prices in a more 'northerly' direction. Moreover, by virtue of declining production costs, shale oil producers can withstand even lower prices, whereas it is questionable whether OPEC members can do so.
WTI Crude USD/bbl YTD (Courtesy MacroTrends)

This week sees little in the way in economic releases in the True North, while America sees a good mix of primary and secondary releases along with a plethora of Fed speakers, including Janet Yellen on Tuesday.
Key Data Releases This Week
Forecast
Previous
MONDAY, MARCH 13

04:00

EUR

Germain Ifo Business Climate

111.2
111.1
TUESDAY, MARCH 14
10:00
USD
CB Consumer Confidence
113.9
114.8
10:10
CAD
BOC Gove Poloz Speaks
WEDNESDAY, MARCH 15
10:30
USD

Crude Oil Inventories

0.5M
THURSDAY, MARCH 16

08:30

USD
Final GDP q/q
2.0%
1.9%

08:30

USD
Unemployment Claims
244K
261K
FRIDAY, MARCH 17

04:30

GBP
Current Account
-16.3B
-25.5B
08:30
CAD
GDP m/m
0.3%
0.3%
by




DAVID B. GRANNER




Senior FX Dealer,




Global Treasury Solutions

by




FRED MAURER




Senior FX Dealer,




Global Treasury Solutions