---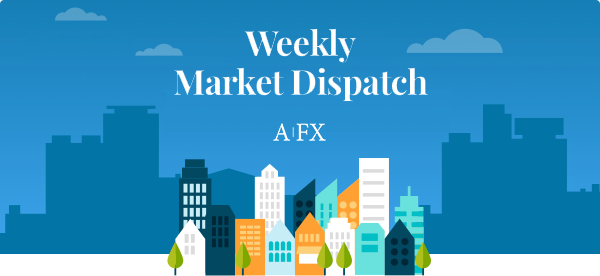 Sure Thing
The prevailing view last week, ahead of the crucial US jobs reports on Friday, was one of confidence that numbers would be strong and likely exceed expectations. At the same time, analysts predicted weak Canadian jobs numbers – more below. As is typical in the run-up to US jobs numbers, markets traded in a tight range awaiting the official data, with the release being somewhat anti-climactic (and not for the first time, either). In any event, the numbers emerged as follows: Total jobs +235K vs call +200K / Jobless rate 4.7% as expected/ Workweek unchanged at 34.4 hours / Hourly earnings +0.2%. Although the total jobs outperformed, players had been whispering 235K – 240K jobs before the official release, so reaction was rather muted. In fact, given that this jobs total was not markedly different from previous releases, many traders have reassessed their Fed rate hike assumptions. Both Dr. Long and Mr. Short had been convinced of a rate hike at the Fed's meeting this coming Wednesday, with two or three more rate hikes during the course of 2017; the only real debate being over how many additional increases were coming. Strength in the USD seemed to confirm this view, and the greenback, along with the EURO, were the winners last week. CAD took a big hit along with crude oil.


However, the 'ordinari-ness' of the recent payrolls number, while likely not dissuading the Fed from raising rates this week, may cause some hesitancy in future hikes this year.
Speaking of CAD, while the loonie took a rather severe thrashing during most of last week, yet another surprisingly strong Canadian jobs number confounded investors. The print was as follows: Jobless rate 6.6% vs call 6.8% / Total jobs +15.3K vs call -5.0K. The breakdown of jobs, though, is revealing: +105.1K Full-time / -89.8K Part-time. This continued a trend of recent months wherein the Canadian economy produced lots of jobs, and February was no exception. The replacement of part-time work by an even greater number of full-time jobs augurs well for the economy going forward, and will make it increasingly difficult for Governor Stephen Poloz of the Bank of Canada to maintain his (apparently) preferred dovish bias.
The US treasury market, as we predicted in our newsletter of February 24th, came to regret its rally of that week, with both the 10-year and 30-year bond yields trading to new recent highs this past week. Despite the bond market's undeserved reputation as rather pokey, largely because of the abstruse mathematics underpinning it, Mr. Market watches it very closely for clues to the direction of long-term interest rates. The US 10-year bond is the bond to watch, as it is the most liquid security in existence and serves as a benchmark bond, not only for other bonds issued in America but also for foreign bonds, both corporate and sovereign, issued in USD and other currencies. Last week during the fixed-income market sell-off, the 10-year bounced up against the key technical point of 2.62% and stalled out there.
US Treasury 10-year Yield Chart 2012-2017 (Courtesy MacroTrends)

Looking right to left along the line marked 2.60%, it can be seen that the 10-year has bounced off 2.60% on three occasions (Mar 10/17, Dec 12/16, Sept 8/14) and failed to break through, subsequently trending to lower yields. If the line at 2.60% holds, then interest rates will likely hold steady or even drop. However, if the line does not hold, yields may run quickly to 3.02% (Dec 23/13) and all bets will be off for rates elsewhere in the US economy
Along with the loonie, oil took a major hit last week, trading all the way down to $49USD/bbl and even lower on burgeoning stocks and production. It is becoming rather difficult to see any way for oil to rally back to the mid-50s, let alone $60USD/bbl, with astonishing inventory builds (API +11.6 mln bbl / DOE +8.2 mln bbl) and American frackers thwarting OPEC's attempts to drive crude prices higher. An emerging view sees WTI crude trading in a range of $45 - $55USD/bbl in the near future, until some development precipitates a breakout. Obviously not good news for OPEC and their attempts at supply management but, as we have noted before, the cartel's glory days are now well in the past. Weak oil prices going forward, needless to say, will not help the loonie either.
In the Euro Zone, the ECB left rates unchanged for now and did little more than tinker with its QE program, although ECB chief Mario Draghi did indicate a decreased likelihood of a rate cut. With this and other developments, the EUR rallied quite sharply on Friday and was the winner on the week, although M. Draghi still has to choose his words carefully. Economic numbers in the Zone are generally improving and inflation has been showing some signs of life, but great political uncertainty looms on the horizon. Dutch elections are slated for this Wednesday, March 15th, with Geert Wilders' Party For Freedom (PVV) populist movement enjoying widespread support. The PVV is currently tied in polling with the incumbent VVD but many analysts give the former a good chance of winning. Mr. Wilders' platform includes dispensing with the Euro and the EU, tightening up the border, closing mosques and generally enacting policies anathema to Brussels. The critical French elections aren't far off either, the first round commencing April 23rd, so M. Draghi must be rather careful in how he proceeds for the next while.
As can be seen from the list below, among all the usual economic statistics of varying utility, there are three central bank pronouncements scheduled for this week: the previously-mentioned Fed along with the Bank of England and the Bank of Japan. The Fed is still widely expected to hike, although the certainty is not quite where it was; little is expected from the BoE; whereas the BOJ may surprise. Not with a rate hike, of course, but perhaps a tweaking of their ongoing – and still massive – QE programme.
Key Data Releases This Week
Forecast
Previous
MONDAY, MARCH 13

08:30

EUR

ECB President Draghi Speaks

21:00

CNY

Industrial Production y/y

6.2%
6.0%
TUESDAY, MARCH 14
04:30
GBP
Average Earnings Index 3m/y
2.4%
2.6%
WEDNESDAY, MARCH 15
04:30
GBP
Average Earnings Index 3m/y
2.4%
2.6%
04:30
GBP
Claimant Count Change
3.2K
-42.4K
07:30
USD

CPI m/m

0.0%
0.6%

07:30

USD

Core CPI m/m

0.2%
0.3%

07:30

USD

Core Retail Sales m/m

0.1%
0.8%

07:30

USD

Retail Sales m/m

0.2%
0.4%
09:30
USD

Crude Oil Inventories

8.2M
13:00
USD
FOMC Economic Projections

13:00

USD
FOMC Statement

13:00

USD
Federal Funds Rate
<1.00%
<0.75%

13:00

USD
FOMC Press Conference
16:45
NZD
GDP q/q
0.7%
1.1%
19:30
AUD
Employment Change
16.3K
13.5K
19:30
AUD
Unemployment Rate
5.7%
5.7%
Tentative
JPY
BOJ Policy Rate
-0.10%
-0.10%
Tentative
JPY
Monetary Policy Statement
THURSDAY, MARCH 16
01:30
JPY
BOJ Press Conference
03:30
CHF
Libor Rate
-0.75%
-0.75%
03:30
CHF
SNB Monetary Policy Assessment
07:00
GBP
MPC Official Bank Rate Votes
0-0-9
0-0-9

07:00

GBP
Monetary Policy Summary

07:00

GBP
Official Bank Rate
0.25%
0.25%

07:30

USD
Building Permits
1.26M
1.29M

07:30

USD
Philly Fed Manufacturing Index
30.2
43.3

07:30

USD
Unemployment Claims
245K
243K
FRIDAY, MARCH 17

07:30

CAD
Manufacturing Sales m/m
2.3%
09:00
USD
Prelim UoM Consumer Sentiment
97.1
96.3
by




DAVID B. GRANNER




Senior FX Dealer,




Global Treasury Solutions

by




FRED MAURER




Senior FX Dealer,




Global Treasury Solutions