---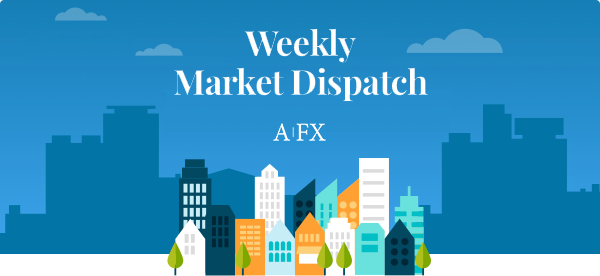 'What's Up, Doc'
Courtesy FinViz
While the above-noted question would certainly best be posed while munching on a carrot, still we doubt most market players had that Oscar-winning rabbit in mind. Last week saw little in the way of hard economic news for traders to digest, but plenty of confusing central banker speak to mull over. Once more unto the breach, dear readers!
Let's begin with the handful of economic statistics released in North America. Canada's November Trade Balance widened from the previous month's -900 mln to -2.1 bln, a sizeable increase but below the market call of -2.2 bln. This growing deficit doesn't appear to be harming the loonie just yet. In America, the only number of note was December CPI, matching the market call of +1.9% yr/yr and the core rate +2.2%. While the US government shutdown continues other statistics will be delayed. Notable exceptions were weekly jobless claims, reported declining to 216K from the previous 231K and well below the consensus of 226K; and the JOLTS (Job Opening Labor Turnover Survey) for November showing a total of 6.888 mln job openings in the US economy, slightly below the market call of 7.050 mln – but still an impressive figure!
Central bankers in both Canada and the US took the spotlight once again, speaking with deceptive clarity while seeking to obfuscate thoroughly. (How we long for the days when central bankers - with some exceptions - were largely anonymous and eschewed publicity). First up was the Bank of Canada and its rate-setting announcement last Wednesday. As was widely expected, the bank held rates steady for now.
However, the Bank expressed heightened concern about Canada's housing market – long a worrisome issue – and the enormous indebtedness of Canadian households. The BOC also flagged declining crude prices and the uncertainty created by President Donald Trump's combative trade initiatives as additional sources of worry. Although the BOC would like to see Canadian rates rise to a 'neutral' level – see chart above - still the BOC is hesitant to pull the trigger in that direction just yet. A recent recovery in crude prices will take some pressure off the Bank.
Not surprisingly, leading economists are split on the state of the economy. As many practitioners of the dismal science see growth perking up while an equal number see growth tapering off. So What's Up Doc? The loonie held steady despite this bearish news and a growing view that Canada may see just one further rate hike this year, and even that is only somewhat likely.
In the Land of The Free, several Fed speakers including Fed chief Jay Powell and the release of December 19th Fed minutes left many market players a touch confused. Mr. Market doesn't like to be confused, not at all; clarity and plain speaking are valued by investors. Such attributes are not the stock-in-trade of central bankers; quite the contrary, in fact. Fortunately, our learned colleagues Dr. Long & Mr. Short excel at wading through this sort of verbiage. Here are the salient points of Jay Powell's Thursday press conference; bullish remarks first, bearish after.
Positive:
*POWELL: FED CAN WATCH PATIENTLY AND CAREFULLY

*POWELL SAYS FED HAS THE ABILITY TO BE PATIENT ON RATES

*POWELL SAYS FED IS IN A PLACE WHERE IT CAN BE PATIENT, FLEXIBLE
Negative:
*POWELL: WE WANT TO RETURN BALANCE SHEET TO MORE NORMAL LEVEL

*POWELL: NOT SURE YET WHAT LONG-TERM SIZE OF B/SHEET WILL BE
Market players weren't quite sure what to make of these remarks. While markets had priced in three rate hikes in 2019 and one in 2020, the current view is just two this year and still the one next year. But at the same time, the Fed has made clear its desire to continue reducing the balance sheet (Quantitative Tightening / QT / -50.0 bln per month) which, in the face of colossal government deficits emerging in Washington, amounts to a tightening of credit conditions. So What's Up Doc?
American consumers still appear to be reasonably confident – for now.
That Line Had Better Hold!
The EU certainly has its share of problems these days, with zone behemoth Germany, No. 2 France and No. 3 Italy heading the list. But that isn't the end of it.
To begin with, German Factory Orders tumbled 1.0% in November from October, much more than expected and down 4.3% yr/yr, the biggest drop in six years. Coming just after ECB boss Mario Draghi announced that the zone economy had forward momentum and could withstand tapering of ECB bond purchases, a potential slowdown in the zone paymaster coupled with political uncertainty over lame-duck chancellor Angela Merkel spells potential problems in the EU. Add to this a softening global economy reducing demand for Europe's (read Germany's) exports – which may already be in train – leading to growing government deficits, and a perfect storm may be brewing. Rising bond yields resulting from increased supply of bonds and diminished demand for bonds will see sharply rising yields for debt issued by the zone's weakest members. As has been well documented, European banks have.
enormous exposure to this debt, and a sovereign debt crisis is something the EU would like to avoid. But the problems keep piling up. In France, PM Emmanuel Macron is clinging to power in the face of a determined 'Yellow Vest' movement.
Causing more headaches for the EU elites in Brussels is the rising deficit spending of the French government, in response to the Yellow Vests, this while Brussels has been harshly critical of the Italian government for its deficit spending (which wasn't as serious as the French). In a perfect tit-for-tat, Italy's deputy PM Matteo Salvini – a prominent Eurosceptic – is meeting with Polish leader Jaroslaw Kaczynski this coming Wednesday to discuss setting up what is being termed a 'Eurosceptic Alliance'. This group would look at fielding candidates in European Parliament elections slated for May. Needless to add, none of these developments bode well for the EUR. USD weakness is keeping the EUR afloat, at least for now.
So What's Up Doc? Things seem to be in a fine mess as the year starts out.
The coming week sees an interesting mix of statistics, with the December US Retail Sales release on Wednesday being the most widely anticipated.
Key Data Releases This Week
Forecast
Previous
MONDAY, JANUARY 14

TUESDAY, JANUARY 15

08:30

USD

PPI m/m

-0.1%

0.1%


10:00

EUR

ECB President Draghi Speaks

Tentative

GBP

Parliament Brexit Vote

Rejects

WEDNESDAY, JANUARY 16

04:15

GBP

BOE Gov Carney Speaks

04:30

GBP

CPI y/y

2.1%

2.3%

Day 1

ALL

G20 Meeting

22:20

JPY

BOJ Gov Kuroda Speaks

THURSDAY, JANUARY 17

Day 2

ALL

G20 Meeting

FRIDAY, JANUARY 18

04:30

GBP

Retail Sales m/m

-0.8%

1.4%

08:30

CAD

CPI m/m

-0.3%

-0.4%
by


DAVID B. GRANNER


Senior FX Dealer,




Global Treasury Solutions