---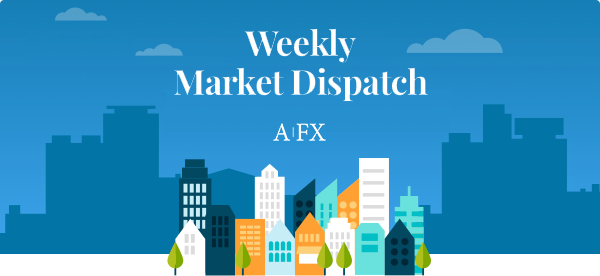 What's Next?
Last week witnessed the release of the crucial American April jobs report, along with the Canadian employment statistics and the Federal Reserve's latest interest rate decision. Overhanging markets was the French presidential election slated for May 7th – more below.
US jobless numbers released last Friday were better, to a degree, than market expectations. The economy created +211K jobs (call +193K) and the rate declined to 4.4% from 4.6%, beating the call of 4.5%. Besides falling to 4.4%, the rate matched the lowest level seen since May/2007, an impressive feat. Revisions to February and March job totals amounted to just -6K. The reaction of market players was muted with little change in equity indices and sluggish trading in bonds following on the announcement. Evidently investors were content to digest the largely as- expected jobs numbers, take some profits and await the outcome of the French election.
Canadian jobs numbers were unimpressive. While the jobless rate declined to 6.5% (call 6.7%) from the previous 6.7%, job growth was anemic at just +3.1K, and all of it part-time. The economy lost 21.2K full-time jobs and created 34.3K part-time jobs. As we have mentioned before, a falling jobless rate is not necessarily a good thing, as discouraged jobseekers give up and fall out of the denominator. Reports of layoffs in the oil patch and at insurer Great West Life, the ongoing issues at Home Capital Group, rising American rates, trade disputes with America, falling crude prices – Mr. Market had been hitting the loonie hard all last week, until the release on Friday of the Ivey Purchasing Managers index, which topped expectations at 62.4. With that, CAD had a long overdue bounce and recovered all ground lost to close the week.
A Tale of Two Debtors / Canada vs. America
A source of concern to Canadian politicians, bankers and regulators is the explosion of personal debt in the True North, with Home Capital Group being, possibly, an early casualty. Rising layoffs and a weakening labour market render the above graph rather more ominous.
The EUR continued trading in a tight range following the French elections win by centre-right candidate Emmanuel Macron over far-right candidate Marine Le Pen. National elections for the French assembly will be held next month, and players will watch closely opinion polls taken prior to the day of voting. Although pollsters got it right this time, it is entirely possible that voters were uncomfortable with the thought of the radical Mme. Le Pen as head of state but may be more willing to cast a protest vote in favour of the Front Nationale in next month's vote. However, those partial to the Front may not be entirely truthful when asked their intentions by polling agencies, a phenomenon known as 'preference falsification'. A similar dynamic played out in both Brexit and Mr. Trump's election win and pollsters are stymied by it.

The Federal Reserve held its scheduled meeting last Wednesday and, as widely expected, left its overnight rate unchanged for now. The accompanying statement – always a fascinating read – was parsed by our colleagues Dr. Long and Mr. Short and summarized as follows:
*FED SAYS GROWTH SLOWDOWN IN 1Q LIKELY TO BE TRANSITORY

*FED SAYS 12-MONTH INFLATION RUNNING CLOSE TO ITS 2% GOAL

*FED: JOB GAINS SOLID, HOUSEHOLD SPENDING ROSE ONLY MODESTLY
*FED: LABOR MKT CONTINUED TO STRENGTHEN EVEN AS GROWTH SLOWED
*FED REPEATS IT MAINTAINING BALANCE-SHEET REINVESTMENT STRATEGY
*FED SAYS FOMC VOTE WAS UNANIMOUS
The Fed has struck a somewhat hawkish tone with these remarks, and Mr. Market has taken note, with odds of future Fed rate hikes ramping up. A June rate hike appears a virtual certainty, with odds near 70%.
The emerging view appears to be that the US economy has outgrown the need for further monetary stimulus (read: low rates) and the Fed should get on with raising rates. If only it were that simple! Aside from setting the fed funds rate, the Fed also owns a lot of bonds, and managing that balance sheet appears to be a major problem. How the Fed will stabilize the amount of bonds in their portfolio, how it will be reduced, how outright bond sales from the portfolio will be managed, what effect this will have on fixed income markets – the Fed, Bank of Japan and European Central Bank all face similar problems and no one really has the answers to all these questions. But at some point, likely soon, these will have to be dealt with.
Oil has been on a steady downward path for quite some time now, a victim of disputes within OPEC, flat lining petroleum demand, increased US shale production and other bearish news. For example, in an attempt to put some pressure on their cartel partners, Russia announced that no decision had yet been taken on extending their production cut deal. With rising US production, crude had nowhere to go but down.



WTI Crude Heads South - Again
The week sees a largely empty Canadian economic calendar, a packed US calendar and numerous Fed speakers.
Key Data Releases This Week
Forecast
Previous
MONDAY, MAY 8

21:30

AUD

Retail Sales m/m

0.3%
-0.1%
TUESDAY, MAY 9
05:30
AUD
Annual Budget Release
WEDNESDAY, MAY 10
08:00
EUR
ECB President Draghi Speaks
10:30
USD
Crude Oil Inventories
-0.9M
17:00
NZD
Official Cash Rate
1.75%
1.75%
17:00
NZD
RBNZ Rate Statement
18:00
NZD
RBNZ Press Conference
21:10
NZD
RBNZ Gov Wheeler Speaks
THURSDAY, MAY 11

04:30

GBP
Manufacturing Production m/m
-0.2%
-0.1%
07:00
GBP
BOE Inflation Report
07:00
GBP
MPC Official Bank Rate Votes
1-0-8
1-0-8
07:00
GBP
Monetary Policy Summary

07:00

GBP
Official Bank Rate
0.25%
0.25%
08:30
USD
PPI m/m
0.2%
-0.1%
08:30
USD
Unemployment Claims
245K
238K
FRIDAY, MAY 12
ALL DAY
ALL
G7 Meetings (Day 1)
08:30
USD
CPI m/m
0.2%
-0.3%
08:30
USD
Core CPI m/m
0.2%
-0.1%
08:30
USD
Core Retail Sales m/m
0.5%
0.0%
08:30
USD
Retail Sales m/m
0.6%
-0.2%
by




DAVID B. GRANNER




Senior FX Dealer,




Global Treasury Solutions

by




FRED MAURER




Senior FX Dealer,




Global Treasury Solutions