---
There was little doubt during the course of last week that the incoming administration of President Donald Trump means business. A large number of old issues were resolved with the stroke of a pen and Mr. Trump made clear, in remarks to the media and in meetings with business and union leaders, that the focus of his administration will be to put America back to work.
Among the many issues finally dealt with was the Keystone XL pipeline project, an issue of major importance to Canada and especially the province of Alberta. Obtaining a green light to move forward on this vast enterprise had been denied, largely for political reasons, by the outgoing Obama administration for many years. Clearing it in the first week of the new Trump administration is as strong a signal as any that there is a new sheriff in town. Investors bought CAD as a result; scoffing at remarks made in the previous week by Bank of Canada Stephen Poloz, implying the Bank wished to see a weaker loonie and might be prepared to cut rates to obtain that result. Given that there were no economic statistics of note released in the True North last week, the loonie's strength appears to be entirely oil-driven.
Late in the week, a number of key American economic statistics were released and presented a mixed bag of the economy. Q4 GDP printed at +1.9%, undershooting the call of +2.2% and well below Q3 GDP +3.5%; December Durable Goods Orders, always a notoriously difficult number to predict, came out at -0.4%, well under the call of +2.6%; but Michigan Consumer Sentiment printed at the highest level in three years!
These results can be interpreted in many ways, but we believe both GDP and Durables represent the tail end of the stagnant Obama economy, whereas rising consumer sentiment augurs well for the near future. Apparently a large number of Americans are regaining a measure of confidence in their near-term outlook, and President Trump is the likely cause. Record highs were recorded in US equity markets, with the Dow Jones finally cracking the 20,000 level and holding above it to the close Friday. Of course, all this good news terrified the fraidy cats in the bond market – 10 year US treasury bonds traded above 2.50% in a major selloff, with 30 year treasury bonds trading up to 3.10% as fixed income investors headed for the exits.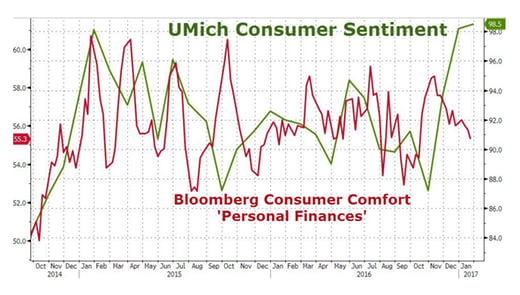 Oddly enough, the US dollar failed to rally on rising equities and bond yields. The reason, though, isn't hard to find: protectionist talk is usually a negative for the greenback, and Mr. Trump nixing the Trans-Pacific Partnership, musing about import taxes (aka tariffs) and generally taking an apparent anti-free trade view spooked USD investors. After the election and into the last FOMC meeting, the USD rallied. Fast forward to the present and market players aren't as sure as the notion of quick deregulation, enhanced spending on infrastructure, tax cut initiatives, and the promise of much faster economic growth from the new administration have not been revealed, thus encouraging the pull back and consolidation of the USD. Having said this, some technical divergences have emerged as some indicators have refused to follow the path lower in the US dollar index in the early part of the week. Notice how the recent lows in the RSI index did not match the one in mid-August (green circles). Also, it would appear that the MACD have flattened out (red circle) and may be ready to turn up. It is safe to say that the downward momentum has subsided for now – only time will tell if we have a definitive change in trend.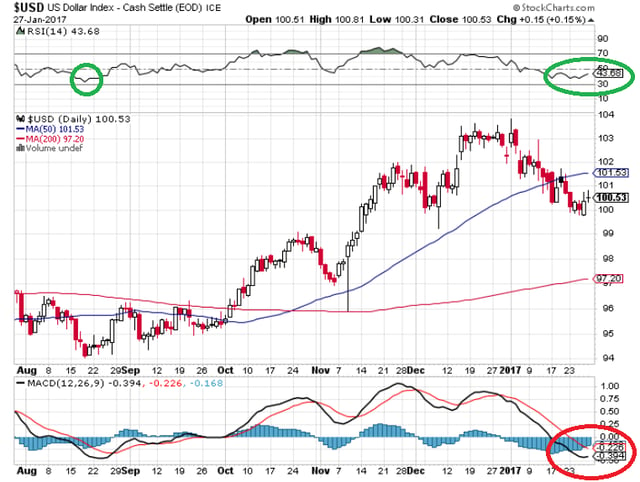 Before we expand on the trade theme, we should first point out that little of note occurred last week in the UK, the EU or in the Far East. British PM Theresa May spoke with President Trump in Washington on Friday – the first international leader to do so - holding a joint press conference afterwards…and that was it.
Mr. Trump has been talking about trade and how the US has been exploited in these agreements over the past quarter century, since the signing of NAFTA in 1994. Balance of trade figures over the years certainly appear, at first glance, to back his contention: Canada - $576.7 billion traded with a $15.5 billion deficit; China - $599.4 billion traded with a $367 billion deficit; Mexico - $532.1 billion with a $60.6 billion deficit; Japan - $193.6 billion traded with a $68.6 billion deficit; and Germany - $174.8 billion traded with a $74.9 billion deficit.
Readers should keep in mind, however, that these numbers represent trade in hard, verifiable commodities and manufactured products. Many analysts believe trade in so-called 'soft' goods or services works greatly to the advantage of America, but have yet to develop a reliable method of measuring it. Such 'soft' goods are things like investment counselling, engineering consulting, movie attendance receipts and the like, which have a real dollar value but cannot be counted in the monthly trade statistics. Regardless, the trade deficits are an issue and Mr. Trump has promised to do something about them.
The odd thing is the degree to which America's deficit with Canada has dwindled over years. The True North is Uncle Sam's second-largest trading partner after China, yet in recent years the two countries have largely achieved near-parity in trade. From a high in 2008 of -78.3 Bln USD, the US trade deficit with Canada has tumbled to the amount seen above, and in fact, to November/2016, the deficit stood at -9.1 Bln USD. Over time there has been a decline in both imports and exports between the two countries, as Canada has been seeking trade deals elsewhere to lessen reliance on America. The upshot is that Canada will likely NOT be a target of Mr. Trump as he seeks a re-alignment of outstanding trade deals. The original Canada/USA Free Trade Agreement was negotiated by Brian Mulroney and Ronald Reagan in the late '80s, fought over in the memorable 1988 Canadian federal election, subsequently ratified and put into effect in early 1989. A review after all these years would be in order, but our feeling is that Mr. Trump is reserving his wrath for the Mexicans and the Chinese. We also believe that Mr. Trump's offer of free trade negotiations to the UK indicates that he is not opposed to trade deals with countries boasting a standard of living similar to that of the USA – western countries, in other words.
It's worth remembering that, after the Brexit referendum last spring, then-President Obama warned the British against seeking a trade accord with America, saying they would be at the end of the line for such deals. Now President Trump is extending an offer to PM Theresa May to talk – how times have changed.
Key Data Releases This Week
Forecast
Previous
MONDAY, JANUARY 30
Tentative
JPY

Monetary Policy Statement

Tentative

JPY

BOJ Outlook Report

Tentative

JPY

BOJ Policy Rate

-0.10%
-0.10%
TUESDAY,

JANUARY 31

01:30

JPY

BOJ Press Conference

03:00

EUR

ECB President Draghi Speaks

08:30
CAD
GDP m/m

0.3%

-0.3%

10:00
USD
CB Consumer Confidence
112.6
113.7
16:45
NZD
Employment Change q/q
0.8%
1.4%
16:45
NZD
Unemployment Rate
4.8%
4.9%
17:35
CAD
BOC Gov Poloz Speaks
20:00
CNY
Manufacturing PMI
51.2
51.4
WEDNESDAY,

FEBRUARY 1

04:30

GBP

Manufacturing PMI

55.9
56.1

08:15

USD

ADP Non-Farm Employment Change

165K
153K

10:00

USD

ISM Manufacturing PMI

55.0
54.7

10:30

USD

Crude Oil Inventories

2.8M

14:00

USD

FOMC Statement

14:00

USD

Federal Funds Rate

<0.75%
<0.75%
THURSDAY,

FEBRUARY 2

04:30

GBP

Construction PMI

53.9
54.2

07:00

GBP

BOE Inflation Report

07:00

GBP

MPC Official Bank Rate Votes

0-0-9
0-0-9

07:00

GBP

Monetary Policy Summary

07:00

GBP

Official Bank Rate

0.25%
0.25%

07:15

EUR

ECB President Draghi Speaks

07:30

GBP

BOE Gov Carney Speaks

08:30

USD

Unemployment Claims

251K
259K

20:45

CNY

Caixin Manufacturing PMI

51.8
51.9
FRIDAY, FEBRUARY 3

04:30

GBP
Services PMI
55.8
56.2

08:30

USD
Average Hourly Earnings m/m
0.3%
0.4%

08:30

USD

Non-Farm Employment Change
170K
156K

08:30

USD

Unemployment Rate
4.7%
4.7%

10:00

USD

ISM Non-Manufacturing PMI
57.0
57.2
by




DAVID B. GRANNER




Senior FX Dealer,




Global Treasury Solutions

by




FRED MAURER




Senior FX Dealer,




Global Treasury Solutions