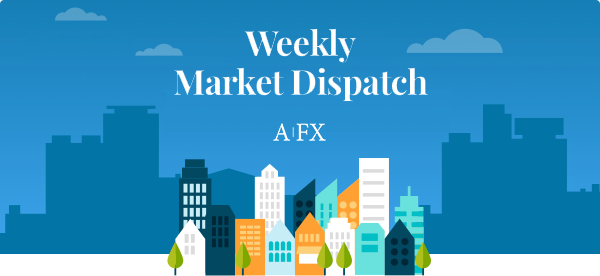 The Wall of Worry
FinViz
Veteran traders and investors approach the latter part of September and the month of October with a large degree of trepidation, as historically those two months have seen near-catastrophic equity market sell-offs. Black Monday and Black Tuesday – October 28th and 29th of 1929 – are familiar to most from history books, while many active players remember the disastrous sell-off in equities on October 19th of 1987, when the Dow Jones Industrial Average declined 22% in one day, triggered by now-familiar concerns over the US budget deficit and trade gap. A similar sell-off occurred on Sept 29th of 2008, following the collapse of Lehmann Brothers and the whole absurd collateralised mortgage market. (The Oscar-winning film "The Big Short" explains this debacle in a clear and entertaining fashion).
Thus traders (ever mindful of market history) approach these two months with caution and worry; at the outset of last week, they had plenty to fret about:
The market was inclined to sell following the strong rally since the lows of March 23rd.

The passing of Justice Ruth Bader Ginsburg threw an awkward spanner into electoral calculations of both Democrats and Republicans.

The apparent inability of Congress to agree on a further stimulus package dimmed hopes for a continued economic recovery.

There is uncertainty over the looming US election, now only a few short weeks away.

The whole BREXIT issue, once thought to be resolved or at least moving in that direction, now in danger of unravelling.

Negative developments on European banks reminding investors that the problems faced by that sector following the 2008 meltdown, among other things, had never been properly dealt with.

Rising COVID-19 case count as an unwelcome reminder of the current pandemic.
In short: lots to worry about!
On the other hand, being glass half-full types here (as mentioned in previous newsletters), we always try to find something positive in the welter of news and market developments we see every week. Let's take a look at the US housing market, which posted very strong numbers last week. Existing Home Sales for August rocketed to the highest level since 2006, coming in as expected at +2.4% and 6.0KK annual rate.

Bloomberg
New Home Sales in August showed similar strength, rising +4.8% vs the street call of -1.2%. Prices are rising as well, to levels not seen since, again, 2006.

Bloomberg
St. Louis Fed president James Bullard chimed in with bullish remarks on the US economy, claiming that Q3 growth would be "off the charts". Atlanta Fed GDP tracker is predicting at rise of +32.0% annualised in the third quarter following the Q2 contraction of -31.7%. Doubtless Mr. Bullard based his remarks on this forecast, adding that such a rise would be inflationary and assist the Fed in its recently announced programme of average inflation rate management.
Americans are generally wealthier these days, despite the ongoing pandemic and economic dislocation. (It is always important to remember that not everyone has been negatively impacted by the year's developments; while many have been badly hurt, many others are thriving).
***
European banks simply cannot catch a break these days. Early in the week there were reports of several large European and American banks involved in "suspicious" transactions with many of their customers. Additionally, the COVID-19 pandemic appears to be re-emerging in Europe, while the banks there have an uncomfortable degree of exposure to Turkey and its current financial problems along with ongoing risks in their dealings with China. The fact that many European banks have rather large positions in their own countries' rather shaky debt doesn't help. Above all this, a negative interest rate environment – absolutely toxic for banks – renders profit-making nearly impossible.
The suspicious transaction report was likely the worst piece of news. According to European sources, the total of such secretive business amounted to $2.0 trillion USD, of which roughly half was reportedly conducted through Deutsche Bank. DB has been mentioned in prior newsletters as one of the Eurozone's sicklier banks, never having fully recovered from the offside bets it made during the U.S. housing bubble of 2005-2008. (DB stock price is down 94% from its 2007 high).
Needless to say, none of this helps the EURO.
***
So, what's the takeaway in all this for investors and market players? As can be seen on the chart at the outset of this article, the USD was far and away the winner on the week, despite ongoing issues in politics, economics, civil strife, and on and on ad nauseum. Some would argue, with the likelihood of a contested election result rising daily and the possibility of no clear winner emerging along with endless litigation, that the greenback should be weakening, not strengthening. Yet Mr. Market was only too happy the buy the USD as a safe-haven retreat, in an emphatic display of RISK OFF. That is one of the benefits, along with many others, of being the world's reserve currency. The same thing occurred in the aftermath of the Panic of 2008; while America was the epicentre of the housing collapse, investors flocked to the greenback as a safe haven pending clarification of the whole mess. The same thing is happening nowadays, and a contested, dragged-out US election may possibly see the USD rally even higher.
***
The coming week sees a handful of economic releases in Canada, with labour market metrics slated for release on October 9th. America sees a slew of numbers, including a final read on the disastrous Q2 GDP and the all-important jobless numbers for September on Friday.
Key Data Releases This Week
Forecast
Previous
MONDAY, SEPTEMBER 28
08:45
EUR
ECB President Lagarde Speaks
TUESDAY, SEPTEMBER 29
09:00
USD
CB Consumer Confidence
90.0
84.8
20:00
CNY
Manufacturing PMI
51.3
51.0
WEDNESDAY, SEPTEMBER 30
02:00
EUR

ECB President Lagarde Speaks

07:15
USD

ADP Non-Farm Employment Change

650K
428K
07:30
CAD

GDP m/m

2.9%
6.5%
07:30
USD

Final GDP q/q

-31.7%
-31.7%
09:00
USD

ending Home Sales m/m

3.1%
5.9%
THURSDAY, OCTOBER 1
07:30
USD

Unemployment Claims

850K

870K

08:30
CAD

Manufacturing PMI

55.1
09:00
USD

ISM Manufacturing PMI

56.0
56.0
FRIDAY, OCTOBER 2
07:30
USD

Average Hourly Earnings m/m

0.5%
0.4%
07:30
USD

Non-Farm Employment Change

900K
1371K
07:30
USD
8.2%
8.4%
Click here to subscribe and receive our weekly dispatch emails directly to your inbox every Monday!
by
DAVID B. GRANNER
Senior FX Dealer,


Global Treasury Solutions