---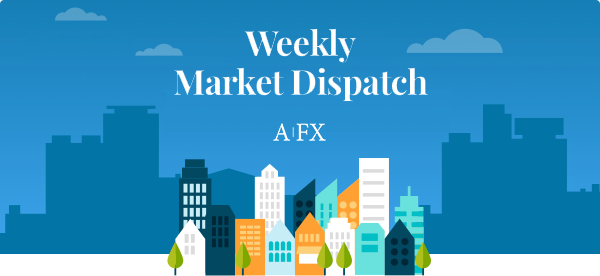 The Hawks Take Flight
It was bound to happen at some point: near-zero interest rates cannot last forever, although nine years is a rather long time. Central banks world-wide cut rates sharply in the aftermath of the Panic of 2008, printing money with abandon, buying bonds throughout the curve and triggering an historic bull run in equities. Those days may be coming to an end – some would say about time. Let's review what happened last week with the Federal Reserve, the Bank of Canada and the Bank of England.
As was widely expected, the Fed raised the overnight rate a quarter-point, to a range of 1.00 – 1.25%, and made clear its intent to raise at least once more in 2017. Our learned colleagues Dr. Long and Mr. Short specialise in parsing Fed statements – an obscure but useful skill – and summarised the key points as follows:
Both gentlemen believe the Fed will likely raise rates three times in 2018, but investors have learnt to discount, in large measure, any predictions longer than next month, or even next week. While the Fed stated that risks to the economy are 'roughly balanced' and acknowledged recent weakness in job growth and other measures, it did mention that inflation is running just below its target of 2.0%. The latter was a touch more hawkish than expected. That all said, the Fed has now clearly embarked on a programme of tightening, and history records that, once the Fed begins raising or lowering rates, nothing deters it.
Our friends in the bond market paid close heed to mention of balance sheet 'unwinding' and initially sold off 10- and 30-year treasurys, causing a rise in yields – more on that below. An uptick in Fed GDP projections to 2.2% from 2.1% and a jobless rate projection downtick to 4.3% didn't exactly sit well with these notably jumpy characters.
CAD was the clear winner on the week, following the one-two punch of hawkish statements from Senior Deputy Governor Carolyn Wilkins and Governor Stephen Poloz. Ms Wilkins, speaking in Winnipeg on Monday, laid out the bank's current thinking on the economy and outlook on rates.
The bank feels growth is broadening; excess capacity is dwindling; Q1 growth was, in her words, 'pretty impressive'; inflation still below target due to falling food prices; over 70% of industries are expanding; oil price shock of 2015 is over and done among other optimistic remarks. Needless to say, Mr. Market was very impressed and rallied the loonie sharply, from the mid-1.34 range to the low 1.32 area.
Central bank speaks - forex market reacts - CAD Rallies!
A notable caveat in Ms Wilkins' speech was her remark that the export sector was a 'disappointment'. Regardless, in an interview broadcast Tuesday from Winnipeg, Governor Poloz confirmed Ms Wilkins' remarks and laid out a generally upbeat view on the economy. He stated the rate cuts of two years ago, done to shelter the economy at the time from a sudden fall in oil prices, '…have done their job, and that's important to us'. The next interest rate setting by the bank will be on July 12th, and market players will be watching closely to see what the bank does, with odds of a rate hike this year now better than 72%. Bear in mind, though, that Mr. Poloz is ex-head of the Export Development Corp., and many players believe he still has a bias toward a weaker loonie. With the Fed set to continue hiking in the near future, the BOC may lag somewhat, giving the export sector some breathing room. Which is a roundabout way of saying that, while CAD may rally, we don't see it getting much below 1.30 this year.
Ex-pat Canadian Mark Carney, head of the Bank of England, had his own rate announcement last Thursday. The Bank held steady, leaving rates unchanged at 0.25% and asset purchases still at 435 bln GBP – see below:
The fact that the vote to retain current rates was 5 to 3, and not unanimous, indicated previously-unsuspected hawkishness on the BOE and the possibility of hikes in the near term. Investors had largely discounted that eventuality given the recent Tory election debacle and the upcoming Brexit talks, so traders moved in and bought sterling with one hand and the loonie with the other. They were rather busy last week!
So what about the bond market? The guys who jump at shadows? Ordinarily, given that the Fed raised rates and made clear its intent to start reducing its vast holdings of treasurys and mortgage-backed debt, bonds would normally retreat in fear, seeing lower prices and higher yields. Yet the ten year remains doggedly around 2.15%, its low of the past seven months (post-Trump election). This level has been touched several times since then but has yet to be convincingly breached. A number of factors are at play here, so take your pick: American government paralysis is holding up spending initiatives; a lack of reasonably-priced foreign government debt (read high-yielding) has overseas investors buying treasurys and, after hedging the FX risk, coming out ahead; a near-complete absence of quality EUR debt due to the voracious appetite of the European Central Bank; and so on. A strong USD also helps keep bond yields relatively low as well.
Lastly, let's take a look at everybody's favourite commodity: oil. It's been a while. Whatever you might think about the oil market, OPEC and all the rest, it has been completely upended in the past two or three years.
Following the Arab oil embargo of 1973 and the quadrupling of crude prices at the time, American legislators in 1975 restricted the export of American crude to ensure domestic supply. The move made sense; there was a genuine energy crisis at that point and something had to be done. At the time, as can be seen above, OPEC controlled well over 55% of the market's output and could, and did, dictate prices.
Fast-forward to 2017: American frackers and the rapidly developing technologies of hydraulic fracturing and horizontal drilling have resulted in enormous supplies of oil now being made available domestically. So much so, in fact, that America has become one of the world's leading producers of oil, currently ranked No. 3 and will likely ship 1.0 mln bbl/day in 2017. Small wonder that prices for WTI crude have slipped under $45 USD/bbl and may go lower still. All of this is bad news for the likes of OPEC and Russia, who will lose market share to the renegade frackers who, with their costs declining, can aggressively undercut the traditional suppliers on price. And so much for the above-mentioned oil conservation act of 1975. And frankly, so much for the concept of 'peak oil', an academic concept first floated around the time of the Titusville oil boom, back when John D. Rockefeller Sr was a young man just beginning his storied career in Cleveland.
'Black Gold/Texas Tea'
The equation is simple: More oil = Lower oil prices = Stronger USD. These recent developments in the curde market are enromously bullish for the greenback.
The coming week sees a mix of second-tier numbers in both Canada and the USA, in addition to a plethora of Fed speakers.
Key Data Releases This Week
Forecast
Previous
MONDAY, JUNE 12
21:30
AUD
Monetary Policy Meeting Minutes
TUESDAY, JUNE 13

03:30

GBP

BOE Gov Carney Speaks

04:45
CHF
SNB Chariman Jordan Speaks
05:00
CHF
SNB Chairman Jordan Speaks
WEDNESDAY, JUNE 14

10:30

USD

Crude Oil Inventories

-1.2M
-1.7M
15:00
NZD

Official Cash Rate

1.75%
1.75%

15:00

NZD

RBNZ Rate Statement

THURSDAY, JUNE 15

08:30

CAD

Core Retail Sales m/m

0.6%
-0.2%
08:30
USD
Unemployment Claims
241K
237K
FRIDAY, JUNE 16

08:30

CAD
CPI m/m
0.2%
0.4%
by




DAVID B. GRANNER




Senior FX Dealer,




Global Treasury Solutions