---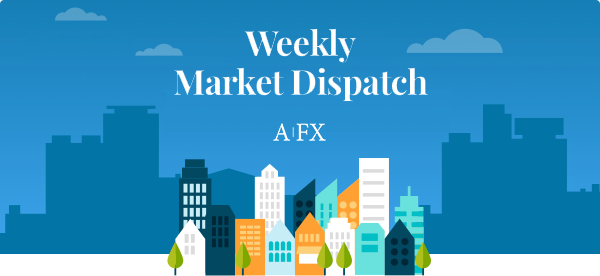 Say What?
The title of this week's missive largely sums up the reaction of market players to the rather disappointing US May employment statistics released last Friday. Analysts had called for a consensus gain of 180K jobs; the ADP payroll showed a strong gain of +253K; yet the final tally was a paltry +138K jobs with downward revisions to both March and April totaling 66K jobs - never a good sign. Hourly earnings were up +.2% and hours worked clocked in at 34.4 hours, both as expected and unchanged from April, but that's just random noise. The participation rate continued to decline, moving south to 62.7% from 62.9% which largely explains the drop in the jobless rate from 4.4% to 4.3%. Jobseekers are, it seems, giving up.
Hourly earnings, after perking up earlier this year, have essentially flatlined.
In other words, America has fewer workers in total taking part in the active economy, and those workers are making only marginally more money than before, and even that is dwindling in size. This is not a portrait of a buoyant economy, sad enough to make USD the loser on the week, tied with Aussie and barely ahead of the loonie.
How the Fed will react to all of this is the big question. Up until just recently, investors had priced in a rate hike at the Fed's upcoming two-day meeting (June 13-14) and possibly two or more hikes over the balance of 2017. However, some recent softness in retail sales and other measures of economic health, coupled with what can, in all fairness, be described as policy and legislative paralysis in Washington, has tempered Mr. Market's enthusiasm. Statements by Fed governor Lael Brainard last week of her concern over low inflation and her thinking that the Fed might raise just once this year – 'One & done' – has taken yet more steam out of the USD's already-fading rally. Given Friday's tepid jobs number, perhaps the thinking will now be None & done - hardly a positive for the greenback.
The fraidy-cats in the fixed income market – the guys always looking for clouds on a sunny day – took the jobs numbers as their cue to rally sharply. 10-year US treasuries traded in a tight range around 2.23% during the week before dropping as low as 2.15% on Friday. This area is an important technical point, last seen in early November/2016 just following the surprise election of Donald Trump. As can be seen in the chart, there was a huge gap around November 8th, when the 10-year yield rose from 1.78% to 2.17%. Subsequently, this gap has never been filled, and technicians don't like that sort of thing. (That sharp uptick in early November was the 'Trump jump' in bond yields)
A sustained drop below 2.17% might see the 10-year fall all the way to the pre-election yield of 1.78% and throw a spanner into the Fed's plans for normalizing rates.
Elsewhere, it was a relatively quiet week. Canada saw little in the way of economic news to move the currency. The trade gap released last Friday came in at -370 mln vs call of flat, but this tiny number is just a rounding error and was ignored by markets. The Eurozone, aside from the usual political bickering, was quiet as well. In the Far East and Antipodes, again little of note. However, events in the UK appear to be coming to an unforeseen conclusion. The general election is slated for this Thursday, June 8th, and does not appear to bode well for the ruling Conservative party. The snap election was called to provide a firm mandate for PM Theresa May in the upcoming Brexit negotiations, but could instead leave her weakened or even out of office, although the latter is quite unlikely.
Our learned colleagues Dr. Long and Mr. Short still believe that the Conservatives will land a majority but it will not be large, and certainly far less than what had been projected at the outset of the election. The result will be a parliament largely unchanged, but with serious questions concerning Tory effectiveness in negotiating Brexit. A 'hard' Brexit imposed on a weak UK could be disastrous for sterling. Time will tell.
The coming week sees the British election on Thursday, a handful of secondary US statistics and crucial Canadian jobs numbers on Friday.
Key Data Releases This Week
Forecast
Previous
MONDAY, JUNE 5
04:30
GBP

Services PMI

55.1
55.8
10:00
USD

ISM Non-Manufacturing PMI

57.1
57.5
TUESDAY, JUNE 6
00:30
AUD
RBA Rate Statement
21:30
AUD
GDP q/q
0.2%
1.1%
WEDNESDAY, JUNE 7
10:30
USD
Crude Oil Inventories
-6.4M
21:30
AUD
Trade Balance
1.91B
3.11B
Tentative
CNY
Trade Balance
336B
262B
THURSDAY, JUNE 8
All Day
GBP
Parliamentary Elections
07:45
EUR
Minimum Bid Rate
0.00%
0.00%
08:30
EUR
ECB Press Conference
08:30
USD
Unemployment Claims
241K
248K
11:15
CAD
BOC Gov Poloz Speaks
FRIDAY, JUNE 9
04:30
GBP
Manufacturing Production m/m
0.8%
-0.6%
08:30
CAD
Employment Change
11.5K
3.2K
08:30
CAD
Unemployment Rate
6.6%
6.5%
by




DAVID B. GRANNER




Senior FX Dealer,




Global Treasury Solutions

by




FRED MAURER




Senior FX Dealer,




Global Treasury Solutions