---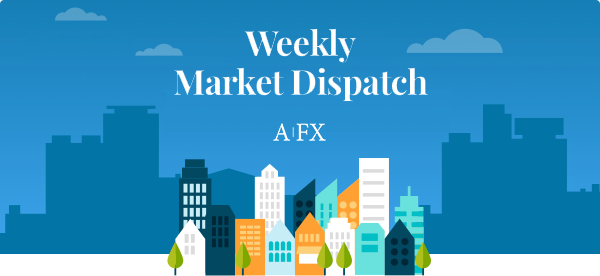 Let's Make A Deal – YEAH!
Courtesy FinViz
Last week saw a large number of secondary US economic releases, a Fed rate announcement and only one number of note in Canada. Media and market attention was more focused on the drama on Capitol Hill, in the US Senate where Brett Kavanaugh was being considered for appointment to the US Supreme Court. While interesting and at times absorbing, the antics on display had little effect on markets save that of distraction. We leave it to pundits better versed in these issues to analyse them and their effects going forward, especially on the US mid-term elections just over six weeks away.
To begin, let's take a look at what happened stateside. To absolutely no one's surprise, the Federal Reserve raised the overnight fed funds rate by a quarter point, with a target range of 2.00-2.25%. Our learned colleagues Dr. Long and Mr. Short cut through all the verbiage and distilled two key points:
Only meaningful change in FOMC's statement is removal of the sentence on maintaining "accommodative'' policy.
The overview of the economy is same as August statement: labor market continues to strengthen, activity "strong.'
What this means in practical terms is that the Fed is preparing to take the overnight rate to a so-called 'neutral' level, neither accommodative nor restricting although there is disagreement just what that level is. Regardless, the guys in Chicago are looking for more hikes in the next six months:
Courtesy CME
US Q2 GDP, the third and final reading, came out as expected at +4.2% and was still the highest in the past four years.
Courtesy Zero Hedge
So what's going on with the NAFTA deal? In late-breaking news, a new three-way agreement was announced just hours ahead of the midnight Sept. 30th deadline. NAFTA is dead! In its place we now have the US-Mexico-Canada Trade Agreement, or USMCA for short. While details are sketchy, it appears that Canadian PM Justin Trudeau gave on dairy market access, while President Donald Trump conceded on the dispute-resolution mechanism demanded by the Canadian negotiators.
It is clear that the announcement was timed to avoid influencing today's elections in the province of Quebec. Given that roughly half of all the milk sold in Canada must be sourced from Quebec suppliers, any concessions made by Mr. Trudeau in the dairy market would have an outsized political impact in the province. The Quebec dairy farmers are well-connected and vociferous in defense of their privileged position and, in the past, politicians have regretted messing with them. The USMCA announcement being made today, this will have minimal impact on the election.
This also leads one to speculate that, perhaps, all the jabs back and forth between Mr. Trudeau and Mr. Trump, dating back to the disastrous G7 summit last June and the apparent rift between the two, was just so much theatrics (at which Mr. Trump excels) while the real negociations were going on under the radar screen. Regardless, it's good that Canada once again has access to the crucial US market, and the loonie has taken off in response.
We recently had a chat with our friend the bond salesman. He explained US bond yields rose quite strongly last week, especially the 10-year treasury bond, before falling on Friday. Needless to say, rising bond yields helped the greenback vault to first place last week, as yield-starved overseas bond
Courtesy CNBC
US 10-year treasury – Highest yield since 2014
investors sought the safety and rather attractive yield (3.04%) of the US 10-year. By contrast, UK 10-year GILTS yield 1.57%, German bunds 0.47% and Japanese government bonds just 0.12%. The salesman added US yields are rising as a combination of a strong economy, increased supply of bonds generated by Mr. Trump's profligate spending and the Fed's quantitative tightening (QT) is causing bond traders – at best a skittish lot – to run in fear.
The coming week sees numerous Fed speakers along with the all-important US and Canadian jobs creation numbers.
Key Data Releases This Week
Forecast
Previous
MONDAY,

OCTOBER 1

04:30

GBP

Manufacturing PMI

52.6

53.0

10:00

USD

ISM Manufacturing PMI

60.1

61.3

11:00

USD

President Trump Speaks

TUESDAY, OCTOBER 2

12:30

AUD

RBA Rate Statement




24:45

USD

Fed Chair Powell Speaks

WEDNESDAY, OCTOBER 3

04:30

GBP

Service PMI

54.0

54.3

09:00

USD

ADP Non-Farm Employment Change

187K

163K

10:00

USD

ISM Non- Manufacturing PMI

58.1

58.5

16:00

USD

Fed Chair Powell Speaks

THURSDAY, OCTOBER 4

21:30

AUD

Retail Sales m/m

0.3%

0.0%

FRIDAY, OCTOBER 5

08:30

CAD

Employment Change

-51.6K

CAD

Trade Balance

-0.1B

CAD

Unemployment Rate

6.0%

USD

Average Hourly Earnings m/m

0.3%

0.4%

USD

Non-farm Employment Change

185K

201K

USD

Unemployment Rate

3.8%

3.9%
by


DAVID B. GRANNER


Senior FX Dealer,




Global Treasury Solutions