---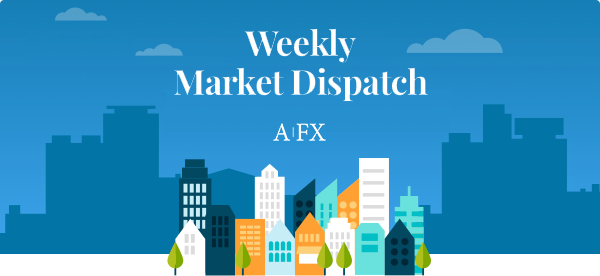 Let Them Drink Champagne?
Courtesy FinViz
Last week proved to be quite dull, with only a handful of (disappointing) economic releases in Canada, some central bank-speak from Japan and Brussels and a near-complete lack of numbers from America, owing to the ongoing government shutdown. Not surprisingly, global media was fixated on the events in Versailles…er, Davos where, like Duffy's Tavern, the elite meet to eat. And drink lots of champagne, apparently, at numerous open receptions.
We'll begin by taking a close look at what's happening in the True North. Simply put, it is not pretty. November Manufacturing Shipments declined 1.4%, worse than the call of -1.0% while Wholesale Trade crashed -1.0%, much worse than the call of -0.3%. Even more worrisome, November Retail Sales – a harbinger of the crucial Christmas shopping season – declined -0.9%, worse than analysts' call of -0.7% and far below October's +0.3%. Ex-autos was no better, falling -0.6% where analysts had called for -0.4%.
As has been documented for several years now, Canadian consumers are manifestly not healthy. The cause, not surprisingly, is debt – and far too much of it.
Courtesy CBC
The above graph shows individual consumer indebtedness in major Canadian cities, with a cut-off at $300K CAD. And it is growing rapidly: Between July and November 2018, mortgage debt, despite rising rates, rose $17 billion CAD to a total of $1.54 trillion CAD. Alarmingly, of the HELOC shown above, nothing is being paid on almost $100 billion CAD according to the feds. Wages are depressed, rising only 1.4% vs an inflation rate of 2.0%. And a recent survey claimed that 46% (!) of respondents were a mere 200 bucks away from disaster.
You may respond: So what? This is old news. And mortgages represent an asset. Fair enough, but with a shrinking oilpatch and diminished oil-related revenues, a slowing domestic economy as evidenced above along with tapped-out consumers, it's hard to see what will keep Canada out of a near-term recession. And this while the US economy continues to power ahead!
A Rare Occurrence
The next Bank of Canada rate setting is scheduled for March 6th, and it will be interesting to see how the bank reconciles its oft-stated desire to move rates up while tending to an economy clearly in distress. Should the Fed at its meeting this week signal further rate hikes going forward, CAD may come under pressure.
In the Land of the Free, there was nothing of note to report, save that weekly jobless claims dropped below 200K for the first time in over 50 years(!), confirming that the US economy is in full-employment mode. Meanwhile, the government shutdown has apparently ended for now, but only until February 15th at which time, without an agreement in place, it may well resume.
We haven't been over to the Far East in some time. JPY came under pressure following a dovish statement from the Bank of Japan, slightly upgrading its growth estimates for 2019 and 2020 – both of which remain anaemic – while downgrading its inflation forecast.
Mr. Market whacked the JPY on this inflation development, as it implied the ultra-low interest rate environment in Japan will continue for quite some time yet – so far, almost 30 years and counting!

GBP was the winner on the week, as traders priced out a No-deal Brexit (a so-called Hard Brexit) and priced in a perhaps more likely Soft Brexit based on PM Theresa May's 'Plan B'. Critics charge that it is simply a tweaked version of the proposal recently voted down in Parliament.

Regardless, GBP had taken a pounding in recent weeks, so a bounce was overdue. Whether sterling can maintain these gains when Plan B is presented for a vote remains to be seen.
EUR was relatively quiet on the week, settling down after very dovish remarks from ECB chief Mario Draghi. In previous remarks, M. Draghi had said 'The balance of risks is moving to the downside', whereas last week he said 'The risks (to the) growth outlook have moved to the downside'. As we have mentioned before, zone No.1 Germany has been seeing a serious downtick in growth, so this was a green light for players to hit the EUR hard:
Courtesy Zero Hedge
The unit managed to recover as the week drew to a close, closing just above the greenback – a currency with its own issues these days.
Lastly, it is sooo tempting to mock the preachiness of our betters attending the World Economic Forum in Davos, Switzerland, but we leave it to others more skilled in humour. This depiction illustrates the Davos thing to a degree:
We will note that several politicians were absent: US president Donald Trump, UK PM Theresa May and French president Emmanuel Macron, the former contending with the federal shutdown while the latter two are dealing with restive serfs in their home countries. For these two leaders, being seen drinking champagne in the glittering halls of Davos would not be, as they say, good optics.
The coming week sees a two-day FOMC meeting, along with a slew of US economic statistics including the all-important jobs numbers on Friday. With the federal government seemingly set to resume operations, these numbers may very well be released as scheduled. Canada sees November GDP and little else.
Key Data Releases This Week
Forecast
Previous
MONDAY, JANUARY 28

09:00

EUR

ECB President Draghi Speaks

09:30

GBP

BOE Gov Carney Speaks

TUESDAY, JANUARY 29

10:00

USD

CB Consumer Confidence

125.0

128.1


Tentative

GBP

Parliament Brexit Vote

Reject

19:30

AUD

CPI q/q

0.4%

0.4%

AUD

Trimmed Mean CPI q/q

0.4%

0.4%

WEDNESDAY, JANUARY 30

14:00

USD

FOMC Statement

USD

Federal Fund Rate

<2.50%

<2.50%

14:30

USD

FOMC Press Conference

THURSDAY, JANUARY 31

08:30

CAD

GDP m/m

0.3%

FRIDAY, FEBRUARY 1

08:30

GBP

Average Hourly Earnings m/m

0.3%

0.4%

CAD

Non-Farm Employment Change

165K

312K

USD

Unemployment Rate

3.8%

3.9%

10:30

USD

ISM Manufacturing PMI

54.3

54.1
by


DAVID B. GRANNER


Senior FX Dealer,




Global Treasury Solutions