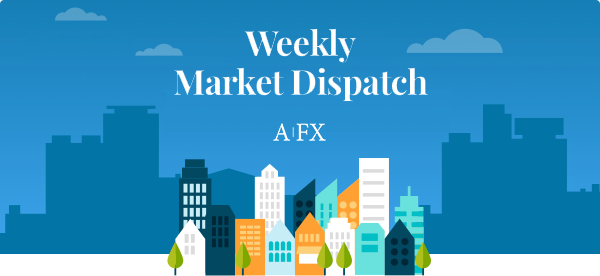 Dollar Interlude
In the 1999 movie The Matrix, Morpheus offers Neo a choice between taking either a "red pill" that reveals an unpleasant truth or taking a "blue pill" to remain in blissful ignorance. Can you guess which one the USD is choking on?
The USD was sold off against all of the major currencies last week; it has fallen for five straight weeks and is in dire need of respite. Unfortunately, it may continue to be sold in the week ahead due to three factor.
Firstly, Wednesday's Federal Reserve meeting will only remind the market that the Fed is responsible for the dollar's decline by way of its ultra loose monetary polices. The Fed will continue to pledge to keep monetary policy accommodative for the foreseeable future and may set the groundwork for another dovish policy wrinkle at its September meeting.
Secondly, Thursday's US Q2 GDP report will make headlines, falling somewhere between 15% to 50%. The data is rear-view news, but the headline risk may cause a knee jerk reaction. Lastly, the federal government's extra jobless benefit of $600 a week is due to end at the end of the month. The optics are not good; Congress is going to look like they are nickel- and-diming the American citizen while the Fed printed about $50K per citizen in new money over the last four months that went to corporations and junk bonds. If Congress drops the ball the dollar may fall some more.
These three events may provide scope for more downside risk, however the momentum indicators on the daily chart of the US dollar index are stretched and are warning that a consolidative respite is waiting in the wings.
Furthermore, headlines about the dollar and the economy may cause the dollar's demise to be overstated. If we look at the year to date data, we will see that the dollar's decline has actually been modest.
This is not to say that the dollar will stop falling here, on the contrary, it will resume its decline after its correction. Gold's performance is warning us of this fact. Gold is about $20 away from its all time high of $1920.30, which will signal a new bull market in the monetary asset.
Speaking of monetary assets, the other one seems to have broken out of its two-month range. No, I'm not talking about silver but rather Bitcoin, also known as digital gold. Bitcoin is over 11 years old now, and because of its scarcity, it's only a matter of time before central banks start to accumulate it for their reserves, if they are not already doing so clandestinely. Its adoption is increasing, especially by institutional investors as evidenced by famed hedge fund manager Paul Tudor Jones' recent announcement that he has 2% of his assets in it. Bitcoin should be viewed as a monetary asset with a call option on the future crypto economy.
While Bitcoin is the central bank disruptor, the Ethereum token is the banking and finance disruptor. Ethereum was up over 30% on the week and about 140% year to date mainly because it is the token that powers the DeFi market with its smart contracts. DeFi stands for "decentralized finance", its an open financial ecosystem that transforms old financial products onto decentralized, trustless, and transparent blockchain protocols. There are apps in the DeFi market that allow you to receive rates of interest on your digital assets or tokens that are much higher than rates available at traditional banks.
The crypto mantra is: spend your fiat and save in crypto.
Its a busy week going into month-end. Even though the economic calendar is packed, data releases are unlikely to change the underlying investment climate, which is still anchored by the monetary and fiscal policy response to the Covid-19 pandemic and, of course, the virus in the form of stubbornly rising new cases in certain parts of the world.
Aside from data releases, Brexit and the US/China cold war will be front and center. The GBP will be in focus in the week ahead as UK-EU Brexit negotiations continue ahead of Prime Minister Johnson's self-declared end of July deadline. Both sides say they are still far apart, and lack of progress could set the GBP back. Meanwhile, if China-US relations continue to deteriorate, investors will be forced to reassess their view of global markets.
Key Data Releases This Week
Forecast
Previous
MONDAY, JULY 27
TUESDAY, JULY 28
20:30
AUD

CPI q/q

-2.0%
0.3%
20:30
AUD

Trimmed Mean CPI q/q

0.1%
0.5%
WEDNESDAY, JULY 29
09:00
USD

Pending Home Sales m/m

15.6%
44.3%
13:00
USD

FOMC Statement

13:30
USD

FOMC Press Conference

THURSDAY, JULY 30
03:00
EUR

German Prelim GDP q/q

-9.0%
-2.2%
07:30
USD

Advance GDP q/q

-35.0%
-5.0%
20:00
CNY

Manufacturing PMI

50.8%
50.9
FRIDAY, JULY 31
07:30
CAD

GDP m/m

3.3%
-11.6%
Would you like to receive all of our blog posts directly to your inbox? Click here to subscribe!
by
Tony Valente
Senior FX Dealer,


Global Treasury Solutions