---
In a relatively quiet week that saw the World Economic Forum in Davos, Switzerland and the inauguration of Donald Trump, GBP was the big winner while CAD was far and away the loser. Both currencies responded to remarks by politicians and senior officials rather than economic developments, so we will review them both in some detail.
GBP rallied very sharply on remarks made by PM Theresa May about the looming Brexit issue. Both houses of parliament will be required to vote on legislation taking Britain out of the EU; the vote is expected early this year. PM May's speech did not add to so-called 'hard' Brexit concerns but appeared to raise the possibility that lukewarm Brexit supporters might shift their votes. Regardless, traders liked the speech and, given sterling's recent sell-off, a bounce was overdue. Remarks by Bank of England governor Mark Carney that the UK economy appeared to managing much better post-Brexit vote than the bank had anticipated didn't hurt. In a subsequent speech made at the World Economic Forum in Davos mentioned above, Ms May confirmed that the UK government was actively seeking new free trade deals with Australia, New Zealand and a host of other countries. Recently installed President Donald Trump had already mooted a free trade deal with the UK so it appears major changes in this direction are on the horizon.
In the True North, by contrast, the loonie took a huge hit after remarks made Wednesday by Bank of Canada governor Stephen Poloz. Soft inflation numbers and retail sales last Friday didn't help, either, with December CPI coming in at +1.5% vs November +1.2% and below the call of +1.7%, and November Retail Sales at -0.1% vs October +1.1%, well below the call of +0.5%. It was perhaps with these numbers in mind when Mr. Poloz held his press conference on Wednesday – it's safe to assume the Bank had a pretty good idea of where these numbers would be. To no one's surprise, the Bank left rates unchanged at 0.50% but, in an unexpected shift, Mr. Poloz struck a rather dovish tone in response to reporters' questions. Two remarks in particular stood out, and Mr. Market paid attention: A rising loonie 'exacerbates ongoing competitiveness challenges' and 'an interest rate cut remains on the table' - so the loonie was promptly whacked. Like most other central banks these days, including the Federal Reserve, the BOC remarked that a large measure of uncertainty had settled over the global economy with the election of Donald Trump. The Bank flagged American protectionism as a potential major threat to Canada but still admitted that, until Mr. Trump's policies start taking shape, it is difficult to foretell.
As hard as it may be to believe, Donald Trump is now sitting in the Oval Office. His team is largely in place, he has firm control of Congress and he appears to be hitting the ground running. We expect a flurry of major developments in the near term. Good luck sir!
Stateside, there were a number of secondary economic releases, mostly coming in line with expectations, although the most recent jobless claims number of 234K was the lowest seen in quite some time. In the meantime, Fed chair Janet Yellen said 'I and most of my colleagues' expect to raise rates 'a few times a year' through the end of 2019. This was sufficient to send skittish bond traders off in a panic – 10 year Treasury bonds traded near 2.50% and the 30 year traded as high as 3.06%. Yields had declined considerably in recent sessions as a measure of caution entered the market prior to the Trump swearing-in but, following Ms. Yellen's remarks, all bets were off. On the other hand, a rising rate environment helped the greenback recover after a recent period of weakness, as investors took profits from the Trump Rally and awaited further news. As the USDX graph below demonstrates, the greenback was due for a bounce, however it is unclear if the "buy election and sell the inauguration" meme has ended.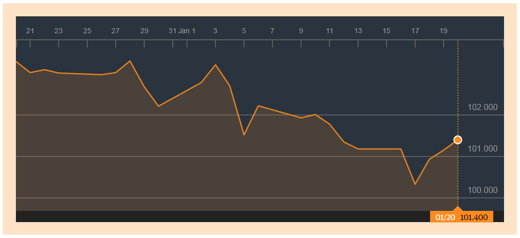 In the Eurozone, the ECB stood pat at its most recent interest rate setting, while little of note occurred in the Far East. The World Economic Forum, mentioned previously, wound down to a close in Davos with business and political leaders, along with assorted pundits and hangers-on, proffering their advice to an increasingly skeptical audience.
Key Data Releases This Week
Forecast
Previous
MONDAY, JANUARY 23

18:30

EUR

ECB President Draghi Speaks

TUESDAY, JANUARY 24

04:30

GBP

EU Membership Court Ruling

19:30

AUD

CPI q/q

0.7%

0.7%

19:30

AUD

Trimmed Mean CPI q/q

0.5%

0.4%

WEDNESDAY, JANUARY 25

04:00

EUR

German Ifo Business Climate

111.3

111.0

10:30

USD

Crude Oil Inventories

2.3M

16:45

NZD

CPI q/q

0.3%

0.2%

THURSDAY, JANUARY 26

04:30

GBP

Prelim GDP q/q

0.5%

0.6%

08:30

USD

Unemployment Claims

247K

234K

FRIDAY, JANUARY 27

08:30

USD

Advance GDP q/q

2.1%

3.5%

08:30

USD

Core Durable Goods Orders m/m

0.5%

0.6%
by




FRED MAURER




Senior FX Dealer,




Global Treasury Solutions