---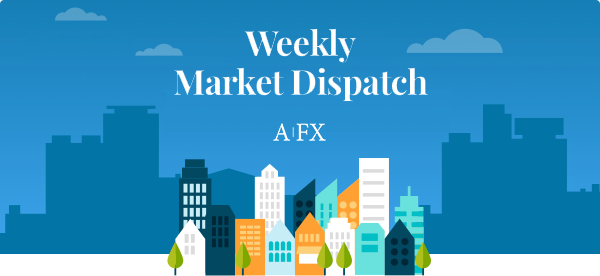 The Uncertainty Principle Re-visited
Noted German physicist Werner Heisenberg (1901-1976), one of the pioneers of quantum physics and famed for his 'Uncertainty Principle' first stated in 1927, would likely be surprised to see a similar sense of uncertainty pervading the hallowed halls of the world's central banks. Here Heisenberg's principle related to the unknowability of both a particle's position and momentum simultaneously; the modern version relates to central bankers' inability to determine appropriate levels of interest rates, FX rates, growth, inflation and employment. Some recent headlines:
For a more graphic interpretation of this phenomenon, we have the following chart (Courtesy Business Insider UK):
And as recently as last week:


What's going on here? Don't central bankers know everything? Aren't they the cool, dispassionate types who make rational, well-founded decisions? Simply put: Not really. An excellent example is last Friday's Canadian employment report which once again surprised, quite sharply, on the upside. Keeping in mind the statement from Bank of Canada governor Stephen Poloz noted above and his recent remarks in mid-January about the negative effects of an overly-strong CAD and the possibility of a rate cut, the January jobless numbers make him, and the BOC, look anything but prescient. Following December's outsized net gain of 46.1K jobs – also a surprise at the time and including 71K full-time positions – January's numbers were expected to be weak, with analysts predicting a loss of 5K jobs and the rate steady at 6.9%. Yet the economy created a total of 48.3K jobs (15.8 full-time / 32.5 part-time) and the employment rate declined a tick to 6.8%. Not only Mr. Market was surprised; even the Bank was taken unawares.
In America, there is similar confusion. The most recent jobless claims number – in our view, weekly claims numbers are superior as a measure of labour market health to the monthly jobs report – dropped to a 44 year low, to levels last seen before the Arab oil embargo of fall 1973. Richard Nixon – remember him? – was sitting in the White House at the time.
Both Dr. Long and Mr. Short believe claims at these levels historically indicate a quite strong economy, yet it would be difficult to make that case nowadays. Market players are still unsure how the American economy will play out in coming months – despite records being set in all major equity indices last week, the euphoria that had set in after November 8th appears to have cooled for the present and markets are largely trading in ranges. This is not to say that traders are glum about the future, quite the contrary actually, but wait-and-see appears to be the prevailing attitude.
Which brings us to the most likely source of all this uncertainty – Donald Trump and his ambitious plans to reflate the moribund US economy. His team is in place; he has already knocked many heads together, so to speak, in high-profile meetings with key players in the US economy; he has dropped hints about deregulation and tax reform along with tax cuts; his cabinet secretaries are preparing to move forward on issues. In a sense, it's the calm before the storm – investors know that major changes are coming soon, but not just yet. It could be argued that, had Democrats taken the White House, the economic scenario would be much clearer, in terms of likely continuing sub-par growth and under-utilization of resources. Mr. Market was familiar with this and would know what to expect. But change is unsettling, and Mr. Trump has promised plenty of that. So uncertainty reigns for now.
Elsewhere, the uncertainty theme played out as well. The New Zealand dollar ('kiwi') was the big loser on the week after the Reserve Bank of New Zealand left rates unchanged. In the words of Graeme Wheeler, head of the RBNZ (our underline):
"Monetary policy will remain accommodative for a considerable period. Numerous uncertainties remain, particularly in respect of the international outlook, and policy may need to adjust accordingly."
The bank avoided any hint of near-term rate hikes for fear of triggering a rally in kiwi, which they consider overly-strong at present. The ploy evidently worked.
There was little of note in Japan or the Eurozone. In the UK, the Brexit legislation was passed by the House of Commons in a resounding vote 494 to 122, with a vote in the upper house expected in early March. Until negotiations begin in earnest with the EU about this 'velvet divorce' – now there's a term! – impact on GBP will be slight.
The oil market, like most other markets, continued trading in ranges pending some break-out news, either positive or negative. Crude is still trading in the low $50 USD/bbl range, where it has been stuck for quite some time now. Surprisingly enough, a mammoth build last week in API/DOE (American Petroleum Institute/Dept. of Energy) inventories of a record 14.0 million bbl failed to move markets lower. Nor did an uptick in US crude production along with operating rigs unsettle markets. Rising inventories and increased drilling, especially as noted below, could reasonably be thought of as bearish for crude prices, but despite all that prices have held firm.
Or perhaps the increase in US crude production is managing to offset the decline in OPEC production under its quota accord, leaving prices stalled? As we've mentioned before, American fracking companies can ramp up production at a moment's notice. It appears these 'outlaws' have done just that – see below.
Lastly, we'll take a look at our favourite graph, the USDX - it managed to buck a four-week decline and turn in its biggest weekly advance since the Fed hiked rates two months ago. The technical backdrop on the chart gives us confidence that just maybe the correction that has plagued the USD since the beginning of the year may be over. Firstly, the index rose above the downward sloping trend line in green. Secondly, the 5-day moving average has finally been able to cross above (blue circles) the 20-day moving average for the first time in six weeks. Thirdly, the momentum indicators have turned in a positive direction – the RSI has been steadily rising and managed to get over 50 while the MACD has turned higher and crossed upwards (red circles). Does this mean that the dollar index has turned the corner and bottomed? The answer is maybe – we would be more confident if this week's data comes in stronger than expected and if we had some sturdy conviction by Fed Chair Yellen at this week's semi-annual testimony to Congress on the economy and monetary policy. If she conveys strong support for the 3 rate hikes in 2017 then the USD may manage to put this correction behind it. However if there's even a hint of caution in her voice and/or she outlines the uncertainty of fiscal policy then the USD correction will take longer to play out.
Key Data Releases This Week
Forecast
Previous
MONDAY, FEBRUARY 13

20:30

CNY

CPI y/y

2.4%
2.1%
TUESDAY, FEBRUARY 14

02:00

EUR

German Prelim GGDP q/q

0.5%
0.2%
04:30
GBP

CPI y/y

1.9%
1.6%
08:30
USD

PPI m/m

0.3%
0.3%
10:00
USD
Fed Chair Yellen Speaks
WEDNESDAY, FEBRUARY 15

04:30

GBP
Average Earnings Index 3m/y
2.8%
2.8%
04:30
GBP
Claimant Count Change
1.1K
-10.1K
08:30
CAD
Manufacturing Sales m/m
1.4%
1.5%
08:30
USD
CPI m/m
0.3%
0.3%
08:30
USD
Core CPI m/m
0.2%
0.2%
08:30
USD
Core Retail Sales m/m
0.4%
0.2%
08:30
USD
Retail Sales m/m
0.1%
0.6%
10:00
USD
Fed Chair Yellen Testifies
10:30
USD
Crude Oil Inventories
13.8M
19:30
AUD
Employment Change
13.5K
19:30
AUD
Unemployment Rate
5.8%
THURSDAY, FEBRUARY 16
08:30
USD
Building Permits
1.21M
08:30
USD
Philly Fed Manufacturing Index
23.6
08:30
USD
Unemployment Claims
234K
16:45
NZD
Retail Sales q/q
0.9%
FRIDAY, FEBRUARY 17
04:30
GBP
Retail Sales m/m
-1.9%
by




DAVID B. GRANNER




Senior FX Dealer,




Global Treasury Solutions

by




FRED MAURER




Senior FX Dealer,




Global Treasury Solutions