---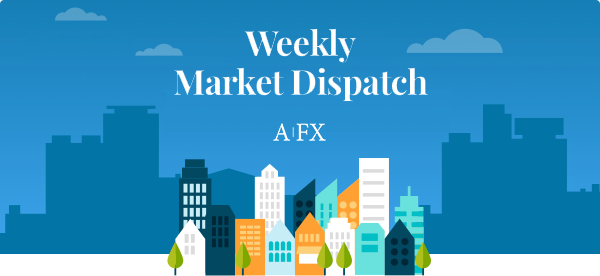 Patience, please
The past week, shortened by Presidents Day in America and various provincial holidays in Canada, was marked by range trading and a general lack of enthusiasm. Some secondary economic statistics were released stateside but had little impact, although numbers in Canada painted a rather confusing picture of the domestic economy - more below.
Politics dominated events in the USA, chiefly Treasury Secretary Steven Mnuchin (muh-NEW-shin), both in his remarks to Christine Lagarde, head of the IMF and in his statements in an interview carried later in the week on CNBC. In his telephone chat with Ms Lagarde, the full transcript of which is unavailable, he asked the IMF to provide a 'frank and candid analysis' of exchange rate policies followed by IMF members. There are many ways to interpret this; we think Mr. Mnuchin would like the IMF to point a finger at China or Japan or any other countries America believes guilty of FX manipulation. The Trump administration had been vocal about labeling China as a currency manipulator last year, but rather quiet on the issue recently; a statement tagging China, for example, as a yuan-fixer under the imprimatur of the IMF would give Washington cover to move ahead with some sort of retaliation against the Chinese, without appearing bellicose.
In regards to Mr. Mnuchin's interview on CNBC, although he described the remarkable post-election rally in equities as a vote of confidence in Donald Trump and his proposed economic policies, still he had to engage in a bit of expectation management, and Mr. Market's ears perked up at this. Mr. Mnuchin said the impact of the pro-growth policies espoused by the Trump administration would unlikely bear fruit until 2018 at the earliest. Going forward, this may or may not hurt the USD. Regardless, the scaredy-cats in the bond market bought treasury bonds on this hint of economic weakness, with the 30-year bond closing below 3.00% yield and the 10-year dropping well below 2.40%. They may be disappointed next year!
The release of the minutes of the Fed's last meeting was somewhat anti-climactic, as this was held prior to the last employment report. At any rate, nothing in the minutes indicated any softening of resolve by the Fed to stay ahead of the curve, so to speak. Cutting through all the verbiage, the Fed wants to see strong employment growth and inflation back at the 2% level to justify an extended series of rate hikes. We believe that is coming soon.
In the True North, Wednesday morning saw the release of December Retail Trade which came in sharply below expectations: -0.5% vs call of unchanged and November's +0.3%. Worse still was Ex-autos: -0.3% vs call of +0.5% and November's -0.1%. Friday's release of January CPI surprised on the upside, +2.1% yr/yr vs call of +1.6% and December's +1.5%. Given the strong increase in jobs over the past several months, these divergent numbers might, at first glance, present the Bank of Canada with a dilemma at their rate announcement this coming Wednesday. However, we believe BoC Governor Stephen Poloz will stick to his standard script, eschewing any talk of a rate hike and possibly trying to talk the Loonie down from its current strength. Traders scoffed at Mr. Poloz in January when he said a rate cut was still on the table; they may well scoff again.
How about everybody's favourite commodity, oil? What's going on there? As we mentioned in the newsletter of February 13th, inventory levels are rising and drilling (aka fracking) is proceeding apace, while the OPEC production cut agreement is holding in place, at least for now. Since that point, America is now exporting almost 1.0 bln bbl/day of oil or more, inventories are still rising yet prices are remaining firm. OPEC's attempt to send prices north is being frustrated by American frackers and their just-in-time oil production, with prices holding in a tight range between $52 and $55 USD/bbl.
The size of American oil inventories is simply staggering, currently above a half-billion barrels and rising. With the greenlighting of the Keystone XL pipeline, it may be difficult to maintain a bullish stance on crude going forward, yet that is where Dr. Long and Mr. Short and most others find themselves these days. There's plenty of oil out there - at some point there will be a shakeout.
Meanwhile, in other news…GBP gained some ground last week, not so much due to economic developments but, rather, to growing confidence among traders that Sterling will overcome handily the upcoming Brexit/Article 50 legislation and negotiations with the Eurozone. Also, despite a warning from the German Bundesbank that London (The City) would likely go into decline post-Brexit, most investors seem to feel that London, like New York, will continue it's pre-eminence as a financial centre. Some business might transfer to Frankfurt, perhaps, but given the current uncertain outlook over the EU's future, most banks will likely stay put for now.
Speaking of the Eurozone, there was little of note from the European Central Bank, but many investors are quietly hedging their bets against an uncertain near-term future by buying the so-called 'Schatz' – the German 2-year bond (see below). Its yield of -0.97% is hardly attractive, yet given its short maturity and corresponding price resilience, it is proving a popular sale. A resurgence of the Greek debt crisis; elections in France, the Netherlands and possibly in Italy, with Marine Le Pen and her Front Nationale possibly gaining much support among the French electorate; all have spooked uneasy players who are seeking security above all. In the Eurozone, security means Germany and, most especially, German bunds.
Compare the Bund 10- and 30-year yields with US Treasurys noted earlier.
JPY, the winner on the week, rallied on safe-haven bids following a general, but light, sell-off in equities commencing in Asia on Friday and continuing into Europe and North America. Major US indices – Dow, NASDAQ, S&P500 – had been hitting record highs with some regularity during the week (!), so players took some profits as the week ended.
As can be seen below, in addition to the Bank of Canada rate announcement discussed above, there are just a handful of Canadian releases this week. In sharp contrast, America will see many secondary economic releases and numerous Fed speakers. The key number, employment, won't be released until March 10th.
Key Data Releases This Week
Forecast
Previous
MONDAY, FEBRUARY 27

08:30

USD

Core Durable Goods Orders m/m

0.5%
0.9%
TUESDAY, FEBRUARY 28

08:30

USD

Prelim GDP q/q

2.1%
1.9%
10:00
USD

CB Consumer Confidence

111.1
111.8
19:30
AUD
GDP q/q
0.7%
-0.5%
20:45
CNY
Fed Chair Yellen Speaks
50.9
51.0
21:00
USD
President Trump Speaks
WEDNESDAY, MARCH 1

04:30

GBP
Manufacturing PMI
55.7
55.9
10:00
CAD
BOC Rate Statement

10:00

CAD
Overnight Rate
0.50%
0.50%

10:00

USD
ISM Manufacturing PMI
56.1
56.0
10:30
USD
Crude Oil Inventories
0.6M
THURSDAY, MARCH 2
04:30
GBP
Construction PMI
52.1
52.2
08:30
CAD
GDP m/m
0.3%
0.4%
08:30
USD
Unemployment Claims
245K
244K
FRIDAY, FEBRUARY 17
04:30
GBP
Services PMI
54.2
54.5
10:00
USD
ISM Non-Manufacturing PMI
56.6
56.5
13:00
USD
Fed Chair Yellen Speaks
by




DAVID B. GRANNER




Senior FX Dealer,




Global Treasury Solutions

by




FRED MAURER




Senior FX Dealer,




Global Treasury Solutions