---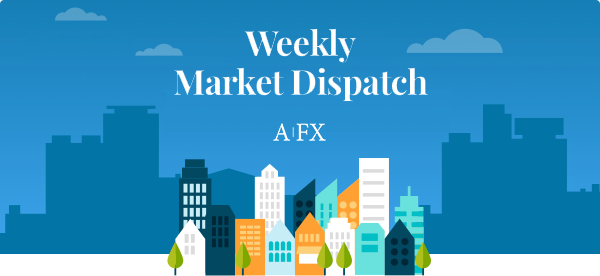 Fake Data, Fading Dollar
"A picture is worth a thousand words" is one of the most repeated English idioms of our time. When we look at the picture above, only two words come to mind about last week's relative performance - relatively unchanged. The relative outlier, only slightly, was the GBP. Nearly every piece of U.K. data released last week was weaker than expected. With average weekly earnings growth slowing and retail sales turning negative, any optimism for a Bank of England rate hike has been restrained. Quite frankly, the idea of a possible BOE rate hike is just too soon at this point without even seeing the effects of Brexit yet.
The showstopper last week was Fed Chair Janet Yellen's semi-annual testimony on the economy and monetary policy to the Congress. In typical Yellen fashion, she was noncommittal to a March rate hike but, she said all the right things to keep a March rate hike on the table. Her tone was unambiguously positive as she pointed out that wages have picked up and that there has been widespread labor market improvement. She warned that "waiting too long to tighten would be unwise" and that "every FOMC meeting is a live meeting". She also was onboard with her colleagues when she indicated that rate increases in 2017 were appropriate. Her testimony was able to raise the odds of a March rate hike from 24% the previous week to nearly 44% and above 75% for a June rate hike. There is a FOMC meeting in May but there is no press conference or updated forecasts for that meeting. Of course, if the Fed were to hike in May it would create new degrees of freedom for the Fed moving forward making every FOMC meeting a truly live meeting.
The US labour market is in great shape and the inflation rate is right where the Fed wants it so why is the USD struggling. One reason may be the political uncertainty of President Trump's administration. We have yet to see specifics on regulatory reform, fiscal reform, corporate tax, border tax, repatriation of capital, and so on. Another reason may be the political uncertainty in Europe. Dutch and French elections are on the docket in the next 90 days with anti-EU parties leading in the polls. The front runner in France, Le Pen, seeks to redenominating 80% of France's €2.1tn public debt – the part that was issued under French law - back to a new national currency. This would, according to rating agencies, likely amount to the largest sovereign default on record – nearly 10 times larger than the 2012 debt restructuring for Greece.
Another reason for the lack of USD bullishness may be the recognition that perhaps the peak of global monetary policy divergence is behind us. While the Fed will probably raise rates at least twice in 2017 (with a slight chance of a third hike), the impact on the USD may be fleeting because other central banks are set to change course. That is to say, other global central banks may be set to end their easing cycles. For instance, the European Central Bank may be poised to announce a taper of its bond-buying program this year.

There may be another more realistic reason why the USD has not been able to sustain the upside momentum. Very simply, the recend soft data that we have had hasn't been able to translate into good, hard economic numbers. Equilty market rallies, sentiment surveys, consumer confidence, and small business optimism all make us feel like everything is great or as President Trump would say "tremendous". However, the fear in the market is that US growth may be actually decelerating. For instance, just last week we saw that the US consumer was in fact struggling as wages failed to make much headway (negative real wage growth). Without increasing wages, broader aggregate demand in form of consumtion cannot be sustained.

Perhaps the USD may get its mojo back if President Trump announces his "phenomenal tax plan."
Key Data Releases This Week
Forecast
Previous
MONDAY, FEBRUARY 20

19:30

AUD

Monetary Policy Meeting Minutes

TUESDAY, FEBRUARY 21

Tentative

NZD

GDT Price Index

1.3%
16:30
AUD

RBA Gov Lowe Speaks

WEDNESDAY, FEBRUARY 22

04:30

GBP
Second Estimate GDP q/q
0.6%
0.6%

08:30

CAD

Core Retail Sales m/m

0.8%
0.1%

14:00

USD

FOMC Meeting Minutes

19:30

NZD

Private Capital Expenditure q/q

-0.4%
-4.0%
THURSDAY, FEBRUARY 23

08:30

USD

Unemployment Claims

242K
239K

11:00

USD

Crude Oil Inventories
9.5M

18:30

AUD

RBA Gov Lowe Speaks

FRIDAY, FEBRUARY 24

08:30

CAD
CPI m/m
0.3%
-0.2%
by




TONY VALENTE




Senior FX Dealer,




Global Treasury Solutions

by




FRED MAURER




Senior FX Dealer,




Global Treasury Solutions